This winter, I've made two trips the White Mountains in New Hampshire and thought I'd share my experiences traveling and doing outdoor activities there as a vegan!
The White Mountains, which include Mount Washington and the Presidential Range, are towards the northern end of the Appalachian trail and include some of the most rugged peaks on the East Coast. The area is beautiful, and even though I lived in central Maine during the years I was in college, I feel like I never really experienced what it meant to be in winter wonderland until I was in the White Mountains.
I went up for New Year's with a group of friends, and came back just a few weeks later for MLK weekend. We had a blast hiking, snowshoeing, downhill skiing, and cross country skiing, as well as exploring the stores and restaurants in North Conway – the main resort town – and the surrounding towns in Mount Washington Valley.
Here's an overview of some of the things we did, as well as the places, companies, and products I discovered up there!
First Trip
Where: The Notch Hostel and Zealand Hut 
Activities: Backpacking, hiking, and downhill skiing
We drove up to the White Mountains after work. It's about a 6 hour drive from NYC, and takes about 1.5 hours longer with the rush hour traffic. We arrived at the Notch Hostel after midnight and drank some beers before bed. I had brought up some Bard's gluten-free beer, which was the perfect refreshment after a long drive. I also ate a Treeline cashew cheese that I had brought up with me.
The Notch Hostel had just opened and is an super nice place to stay. The layout is very unique, and conducive to low key socializing and winding down in between activities. It's run by a young couple who met "on the trail."
The following day, New Year's Eve, we slept in until fairly late. For breakfast, I had a few slices of toasted millet and flax bread from Sami's Bakery, topped with Go Veggie vegan garlic and chive cream cheese.
In the early afternoon, we drove to Franconia and started making our way up to Zealand Hut, one of the 8 huts in the Presidential Range run by the Appalachian Mountain Club (AMC). It is about a 7-mile hike in from the road, Rte 302.
I had never been winter hiking before, and I soon realized that you get hot fast. For my upper body, I was wearing a thin wicking synthetic shirt, underneath a warmer heat-trapping synthetic layer, followed by a fleece vest, thin fleece jacket, and a PrimaLoft padded jacket beneath a breathable North Face shell. For my lower body, I had a pair of wicking yoga pants from prAna, followed by a synthetic layer, and insulated snow pants. Those layers were fine, but the items I was wearing on my upper body made it feel as if I was hiking in a sauna. By a few miles in, I was sweating so profusely that I had to get rid of most of my layers. It turned out that all I needed for my upper body in 30 degree weather were the synthetic shirts, the fleece vest, and the North Face shell. Someone later told me that it's best to start off winter hiking feeling cold, but to have extra layers in your pack in case you need them. The most important thing though is that you never wear cotton during winter hikes. In the cold, wet cotton freezes and can cause hypothermia – hence the common phrase used in hiking "cotton kills."
The sun was setting as we made our way up, and by the time we got to Zealand Hut it was dark. I immediately changed out of my sweat-drenched clothes into some dry long winter underwear, and huddled with others around the wood-burning stove in the main room – the only source of heat in the hut. People had started drinking – mainly whiskey, which was passed around in flasks. But I first enjoyed several mugs of Food of the Goods chocolate elixir with turmeric and ashwaghanda from Spice Pharm.
In addition to Spice Pharm's Food of the Gods chocolate elixir, I also love their Golden Goddess Turmeric chai elixir. Usually, I like to add in some ground flax seeds, coconut oil, and teff flour to make it more filling. This time I just combined the chocolate mix with Native Forest dried coconut milk to give it a richer texture.
At this point, others who were staying at Zealand hut started drifting in and we started cooking. There were a few other vegans and vegetarians in our group and we made some delicious one pot pasta with a variety of vegetables, tofu, and Tofurkey sausage. Between all of the members of our group, there was a lot of alcohol, but I stuck to the gf beer that I had packed in a Klean Kanteen growler.
I took a few breaks from socializing to peruse some of the books in the bookcase near the stove, one of which was recommended by the caretaker – Not Without Peril: 150 Years of Misadventure on the Presidential Range of New Hampshire. For some reason, stories about harrowing misadventures always fascinate me, so I later bought a used version from Amazon when I got home. The catalog of mountaineering deaths are instructive as cautionary tales, and in between you get some rich history and lore about the AMC huts in the White Mountains.
The AMC huts typically have quiet hours that run from 9 pm to 7 am, but that night the caretaker made an exception because it was New Year's eve. Most of us stayed up until 2ish, and then slept in until about 7:30 am.
Bunk rooms at the huts are unheated, so you need to have a warm sleeping bag and enough layers. They are also unlit, and walking about them requires headlamps at night. I was lucky that that night the temperature did not get too low, because my sleeping bag doesn't go below 20 degrees. It can be hard to find vegan sleeping bags that go down to 0 degrees, but I did find one online by Marmot that I may get for next time.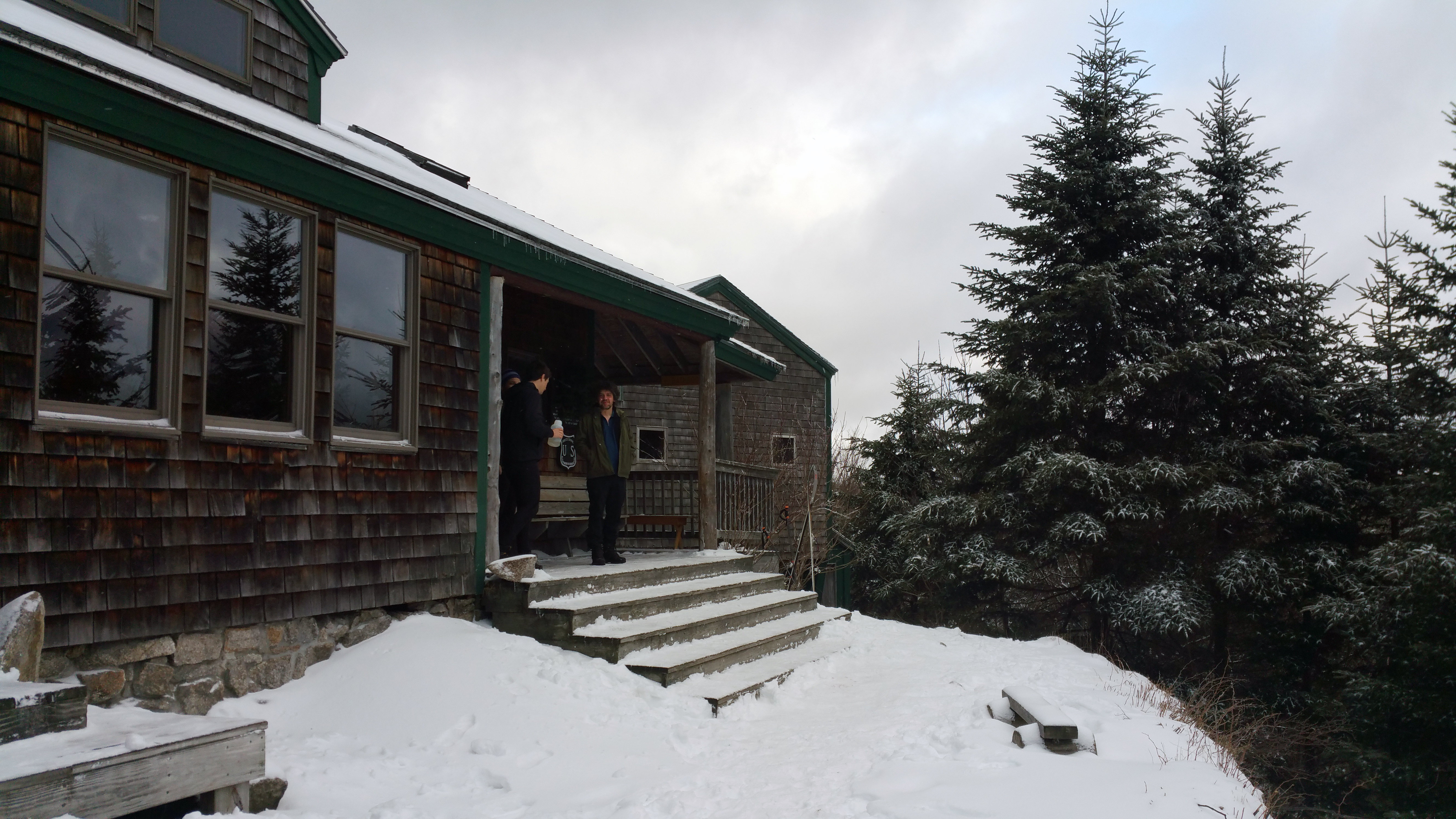 The next day, I enjoyed some guayusa tea along with a Lara bar, both of which I had brought up with me, for breakfast. Some of my friends went for a hike up to Mount Zealand, but I knew that given how sore I was I probably wouldn't be able to do that on top of hiking down from Zealand Hut. Therefore, I decided to make my way back down to civilization with a few others. We then went to lunch at a diner called Grandma's Kitchen, where I ate french fries with ketchup – a snack which is perhaps not healthy but always hits the spot. I was kind of tired at this point, but one of my friends, who happens to be vegan, used some of the hot water there to make us all some delicious hot chocolate with vegan cocoa, soy creamer, and a little hazelnut coffee, which gave me the pick-me-up I needed.
We then went night skiing at Bretton Woods, which offers a much cheaper rate for lift tickets and rentals in the evening. Afterwards, we headed to the Mount Washington Hotel that has a speakeasy bar in the basement called "The Cave" with live music. The Mount Washington Hotel has historical significance in that an important meeting called the Bretton Woods Conference took place there after WWII. During this meeting, diplomats from 44 countries established The World Bank and set the American dollar as the gold standard.
I had a sense of déjà-vu when we were in the hallways, and said to one of my friends that the hotel reminded me of The Shining. He told me that they actually filmed some scenes from The Shining there, a fact that I haven't yet been able to verify on the internet but seemed about right to me. While at the bar, I ordered some chips and hummus for dinner which weren't anything special, but got the job done.
We went back to the Notch hostel afterwards to sleep. Thanks to my eye mask and ear plugs, I slept through everyone getting up early the following day to hike Mount Washington. I had decided not to go with them, because although I'm in pretty good shape from Bikram yoga, I knew that I needed to work my way to hiking steep elevations.
Instead, one of my remaining friends and I hiked the Welch and Dickey loop, which one of the owners of the Notch Hostel recommended to us as a beautiful day hike. Welch and Dickey turned out to be more or less perfect. It presented the ideal amount of challenge: enough to give you a good workout, but not enough to cause any excess strain. The scenery was gorgeous – for much of the hike, you're walking along woodsy paths that are incredibly picturesque when covered in snow. The top of Welch felt like a proper peak and offered stunning 360 degree views of the Whites.
Afterwards, we went to a really cute café in North Conway called Frontside Coffee Roasters, where there was a live guitar player. We had wine and sandwiches; I got a gf vegan beet burger which was pretty good. Back at the Notch Hostel, we enjoyed the sauna. Later that night, we combined some wine, cider, and spice mix to make some mulled wine.
We drove back the following morning after going back to the café for breakfast, during which I got a soy chai latte.
Second Trip
Where: The Seasons Condominium Resort
Activities: Cross country skiing
This time, we drove up the Friday before Martin Luther King Jr. Weekend and stayed at The Seasons Condominium Resort. The next day we went country skiing at Jackson Cross Country. As someone who's been skiing since I was two years old, I had assumed that cross country skiing for the first time would be a breeze for me. That was definitely not the case. It turns out that cross country is quite different than downhill skiing. The skis are much lighter, without sharp edges to carve with, and are detached from the heel of your boots. While poles in Alpine (downhill) skiing are more like props to use for balance, poles in Nordic (cross country) skiing are tools through which to exert your upper body strength and catapult yourself forward. In Alpine skiing, gravity helps you carve your way down the mountain somewhat passively; Nordic skiing, on the other hand, requires consistent effort and energy. After a while, you do get into a certain rhythm in which you're able to access a flow state. But as far as meditative activities go, it's more akin to walking or jogging than downhill skiing.
I struggled to keep up with my friends, most of which had experience with cross country, and fell at least 10 times that day. But I still managed to have a lot of fun. It's an intense workout and a great way to experience nature.
Just as alpine skiing has hot chocolate huts scattered across the mountain, cross country skiing locations usually offer at least one hot chocolate hut in the middle of the area. I got a small bag of kettle corn from Cloud Nine – a local brand – which turned out to be delicious. I'm usually not a fan of kettle corn, as I don't like sugar, but Cloud Nine's turned out to be the perfect balance of sweet and salty.
After skiing, we stopped at The Vista Country Store, which sells craft beers. I asked the owner if they had any gluten-free beer and he brought me to an area where they had various kinds of beer from this gluten-free brand called Omission. I got the IPA version, as IPA's were always my favorite before I went gluten-free. When I saw that they had Cloud Nine kettle corn there, I got two big bags of those, one of which I quickly devoured when we got back to the condos.
Later that night, I made some sautéed kale (sautéed kale, extra virgin olive oil, and Herbamare) as I wasn't particularly hungry but wanted something green. Everyone was eager to try my gluten-free beer and they all said they were really impressed by it. Omission beer, by the way, turned out not to be from New Hampshire but Oregon, and is sold is craft beer stores and Whole Foods throughout the country. I later found it at Whole Foods Bowery, although I have yet to find another location in the city that sells it.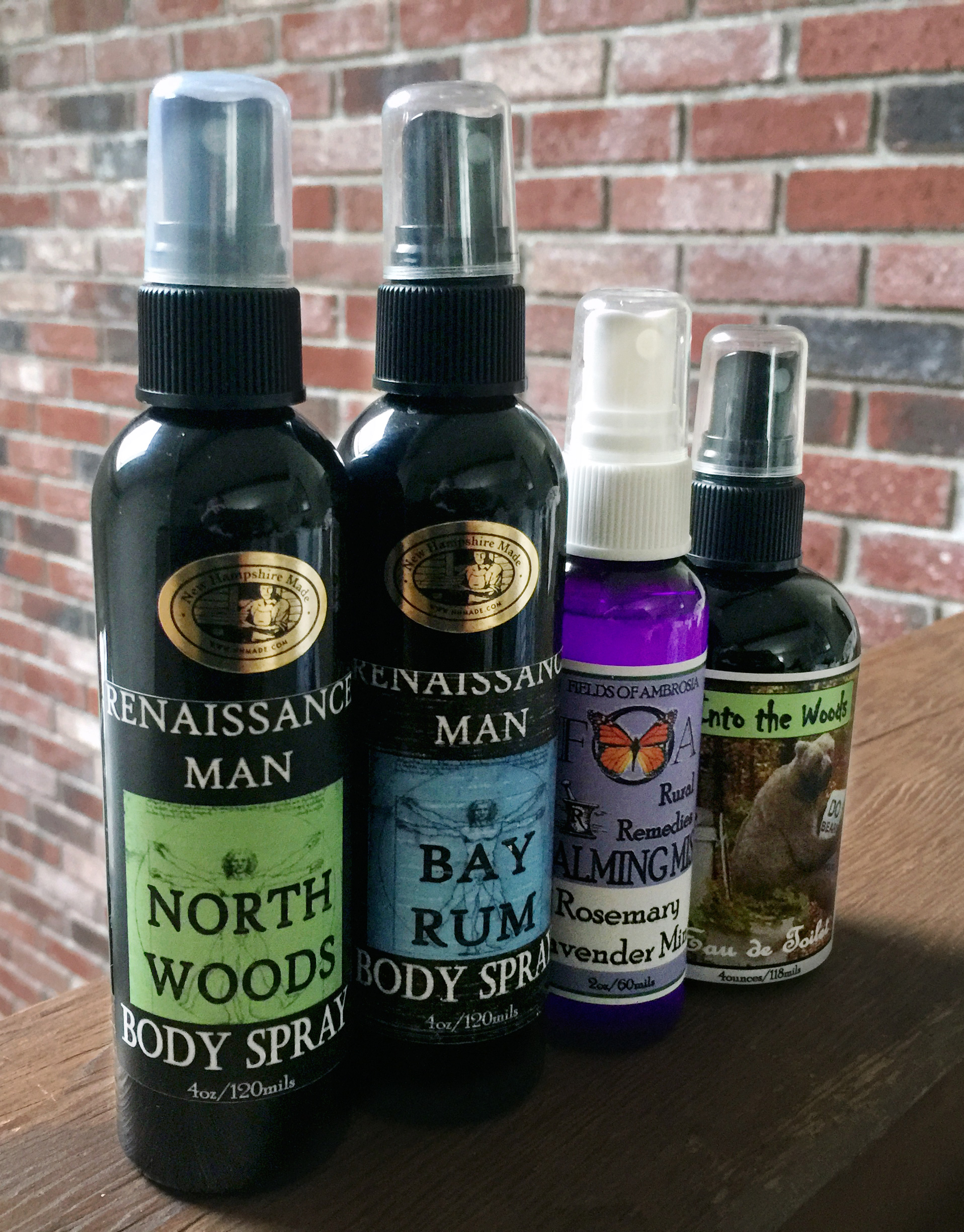 The following day, I went cross country skiing at Jackson again. This time I was starting to get the hang of it, and only fell once. After a few hours of skiing, my friends and I decided to go into the town of North Conway to check out some of the hippy stores there. There were some really adorable New Age stores with interesting fair trade clothing and home décor. The store I fell in love with is called Fields of Ambrosia (FOA), which sells natural bath and beauty care products, as well as essential oils and blended fragrances. Everything is made from scratch in the store, and is priced very reasonably. I was immediately drawn to their Renaissance Man collection, which may seem weird because I'm a woman. However, I've always loved earthy, woodsy fragrances, and the woman who worked there told me that I should go for what my instincts tell me I drawn towards. I got the Bay Rum and North Woods body sprays, some eau de toilette spray that smells like the outdoors, and their bestselling Rosemary Lavender Mint Rural Remedy spray. According to people have come back again and again to get this product as they've found it helpful in alleviating anxiety and insomnia. The idea is that you just spray the fragrance a few times on your pillow and it induces a deep and peaceful sleep.
I was thrilled to learn that they have a website where you can order products online and that they pay a flat rate for shipping. I'll definitely be buying more of the products online. The owner started FOA when she began to question all the chemicals in natural beauty care products and started to make her own products. A portion of the proceeds go towards Jen's Friends, a foundation that provides support to cancer patients and their families in the Mount Washington Valley.
After visiting FOA, we went to White Mountain Winery, where we did some wine tasting.
We were told that the wines are formulated with 60% less sulfites (chemical preservatives) than conventional wines. They're also made completely without tannins, which can detract from the natural flavor of the grape. I definitely noted a much smoother and more dynamic taste in the wines that I tasted while there. If only there was such a cool winery in New York City!
We played a bit with their super-sweet and friendly dogs Doc and Lucy, who had been previously abused, but luckily found a safe and loving home with the owners of White Mountains Winery.
Not only was the family loving and generous enough to take in rescue dogs, but they contribute money to animal shelters as well. Tips at the wine bar are used as donations and so far the the winery has raised more than $5,000.
That night, I once again made some sautéed kale with extra virgin olive oil, lemon juice, and Herbamare, as well as some potato rounds, which were pretty much gone as soon as I took them out of the oven.
The following day, we went cross country skiing at Glen, which like Jackson was not too far from the Seasons condos. This time, my friend and I had the good sense to get some private instruction, which only cost $10 for 45 minutes.
Although I'm really glad I had the lesson, I also think it was helpful for me to struggle a bit before having someone give me instruction and feedback.
Conclusion
The White Mountains offer many opportunities to engage mindfully with the outdoors. In addition hiking to the AMC huts and cross country skiing at Jackson or Glen, other activities in the White Mountains could include:
Downhill skiing at Bretton Woods, Loon, or Attitash
Hiking or snowshoeing along Franconia Ridge
Hiking Mount Washington
And much more!
Whenever I travel to a new area of the U.S., I like to visit the local health food store to try some of their vegan foods and discover new natural products. The Local Grocer is North Conway's natural food store. They have a vast array of supplements and natural body care products, in addition to a Café with delicious food and an Eco-Gift Shop. Upstairs, they have a book area where you can just chill and read some of the wellness books they have on offer, and check out their tarot / angel cards. I stopped by only briefly, because my friends were waiting in the car, right before we left for New York, and picked up a granny smith apple and some Chao vegan slices (original) – which make great road trip snacks.
Vegan food
I typically bring lots of snacks when I travel, because other people – non-vegans included – tend to want to have some as well. On each trip I brought:
While I was there, I would get some fresh produce in the form of potatoes and kale from the nearest grocery store. My vegan friends had brought some pasta dish ingredients, so I was able to enjoy some of their pasta as well. In retrospect, I would have brought a few bottles of green juice to add some raw greens to my diet, but otherwise I was satisfied with what I packed.
Vegan winter hiking clothing
Winter hiking differs from summer hiking in that you could potentially die from hypothermia. Therefore, it's important to have lots of layers on hand just in case and to never, ever wear cotton. Wool is a popular material used for winter hiking clothes, and when you're carefully perusing REI for socks and long winter underwear not made out of wool, you may be tempted to say "to hell with it" and just buy something with wool. Don't give in! Wool is a product of extreme cruelty and my experience has shown that wearing wool during winter outdoor sports is not necessary.
SmartWool is probably the most popular brand of hiking socks. But given how barbaric the wool industry is, it should really be called "IgnorantWool" or "StolenWool."
I was able to find some really warm and comfy synthetic long winter underwear tops and bottoms from REI. Socks were a bit trickier – pretty much all of the ones on offer were made of wool. I wound up getting several pairs of super comfy liner socks and mid-weight and ultra-light synthetic socks from REI.
My hiking boots were Sierravada Mid OutDry boots with waterproof construction from Montrail (not to be confused with their leather version), which have served me well over many years.
As a jacket, I've been using The North Face's Thermoball Tri-climate Jacket which has a breathable HyVent Shell and removable PrimoLoft liner.
The sleeping bag I used Marmot Trestles 15 Sleeping Bag which is down-free. It's a good sleeping bag for all seasons, but may not be warm enough for super-cold winter nights. The next time I backpack in freezing weather, I'd go with this one.
For winter hiking in snow that's not more than 4 or 5 inches, I highly recommend Microspikes. They're super-convenient, and not bulky like crampons or snowshoes. Microspikes help you to gain traction under foot when hiking on thin layers of snow and ice.
I didn't wind up needing snowshoes because the snow wasn't thick enough, but I've been told that the Lightning Ascent Snowshoes from MSR are the best for women, so I may get those for my next trip. As for the cross country ski equipment, I was able to rent boots, skis, and poles at Jackson and Glen for a very low price.
The power of nature
More and more research has been coming out that spending time in nature helps to recalibrate our physiology. However, we don't need clinical trials or case studies to tell us that being nature makes us feel better. It's something that we all intuitively know at a very deep level.
The older I get, the more I notice how simultaneously peaceful and alive I feel when I'm in nature, and that when I am deprived of it for extended stretches at a time, my mental and physical well-being suffer.
During my weekends in New Hampshire, it struck me that when I spend long periods in the outdoors, my ego and worldly concerns seem to gradually fade away – to the point where I feel like I've merged with the landscape. When I come back to the city, I see everything with fresh eyes. I realize that most things aren't as important as we make them out to be, and that if everyone spent more time in nature, our world would be a much more harmonious place.
Recommended Resources
White Mountain Guide Weatherproof Map Set
Mountain Voices: Stories of Life and Adventure in the White Mountains and Beyond
Not Without Peril: 150 Years Of Misadventure On The Presidential Range Of New Hampshire by Nicholas Howe
Take Two Hours of Pine Forest and Call Me in the Morning by Florence Williams, Outside Magazine