Earlier this fall, I went to Cape Cod to celebrate my friends' wedding and thought I'd share my experiences there – finding vegan-friendly food, spending time in nature, and coming across cool small businesses.
Weather
Cape Cod is a beautiful place to visit in fall. Though there are still quite a few "weekend warriors" commuting out from cities like Providence and Boston, the tourists are mostly thinned out at that point. My friends were lucky in that the weather for their wedding day was clear skies, with a high in the low 70's. It did get a bit chilly at night, as it usually does in New England, and there was frost on the windshield of my car in the mornings.
Hotel
I stayed at the Four Points Eastham which is pretty much your standard Marriott. In retrospect, I kind of wish I had stayed at the Inn at the Oaks which is across the highway. I generally prefer old buildings that are cozy and have more character. That said, I didn't have any issues at the Four Points and found that the staff was particularly helpful and friendly.
Here's what I did when I was on the Cape:
First Encounter Beach
I arrived Friday afternoon, and had enough time after checking into my room to go to a beach called First Encounter on the bayside about a 6-minute drive from my hotel. I loved the name – there's something whimsical and unexpected about it.
It seemed that there were a fair amount of local residents hanging out there, but not so much that it was crowded, and it was a good way to unwind after driving for several hours and catch some late afternoon sun.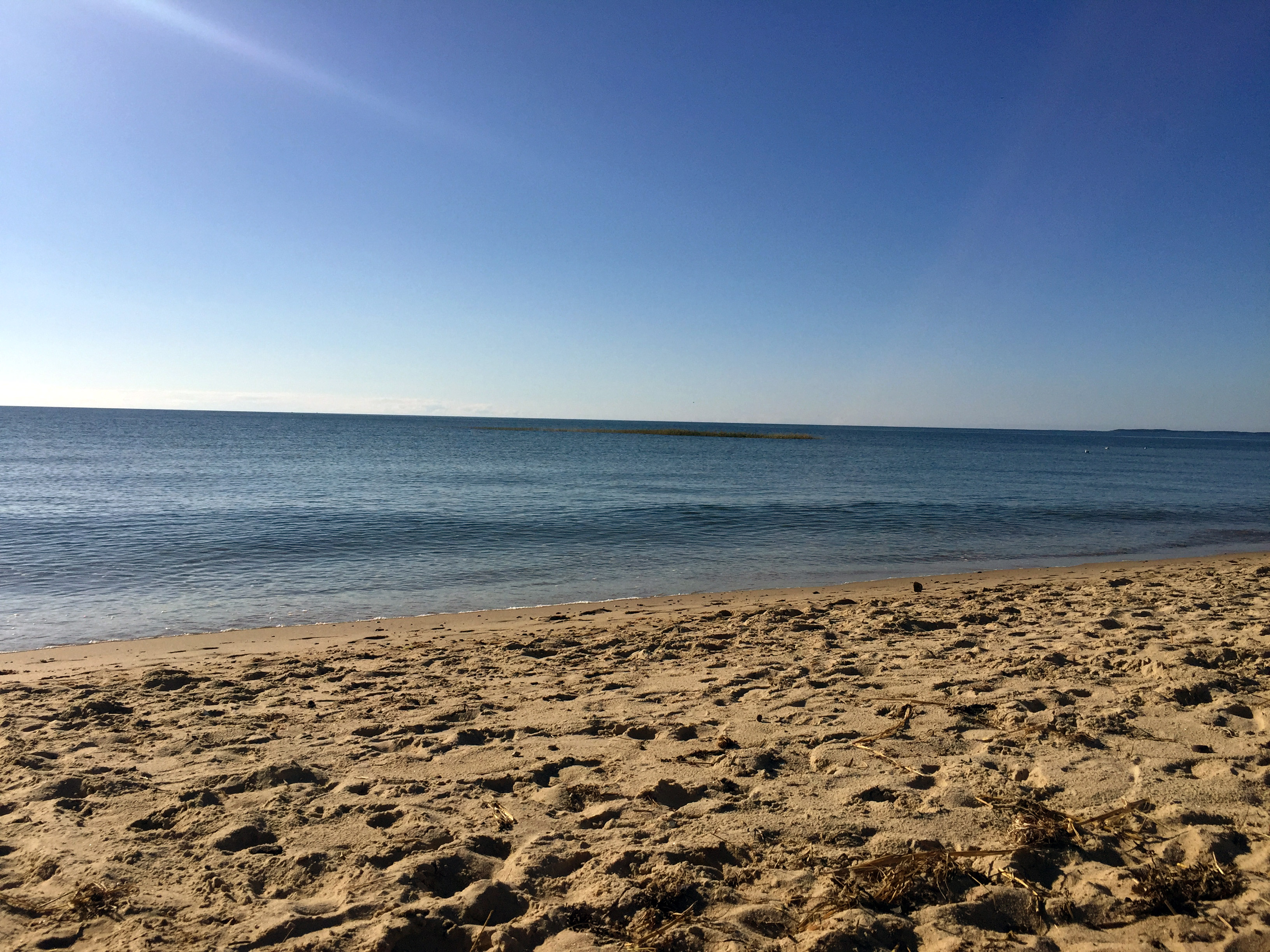 I was there during high tide which was pretty, but low tide is actually the more interesting time to be there because the tide goes way out – roughly a mile – and there are little sand bars, on which you can walk out and see the wave-like patterns of the bay floor.
I didn't get to experience this at First Encounter beach, but had seen it happen several times during visits to my friend's house in Brewster in the past and during the morning-after brunch.
Karoo South African Restaurant
I had done some research for vegan-friendly food in the area, and had been excited to find that there was a South African restaurant right near my hotel called Karoo.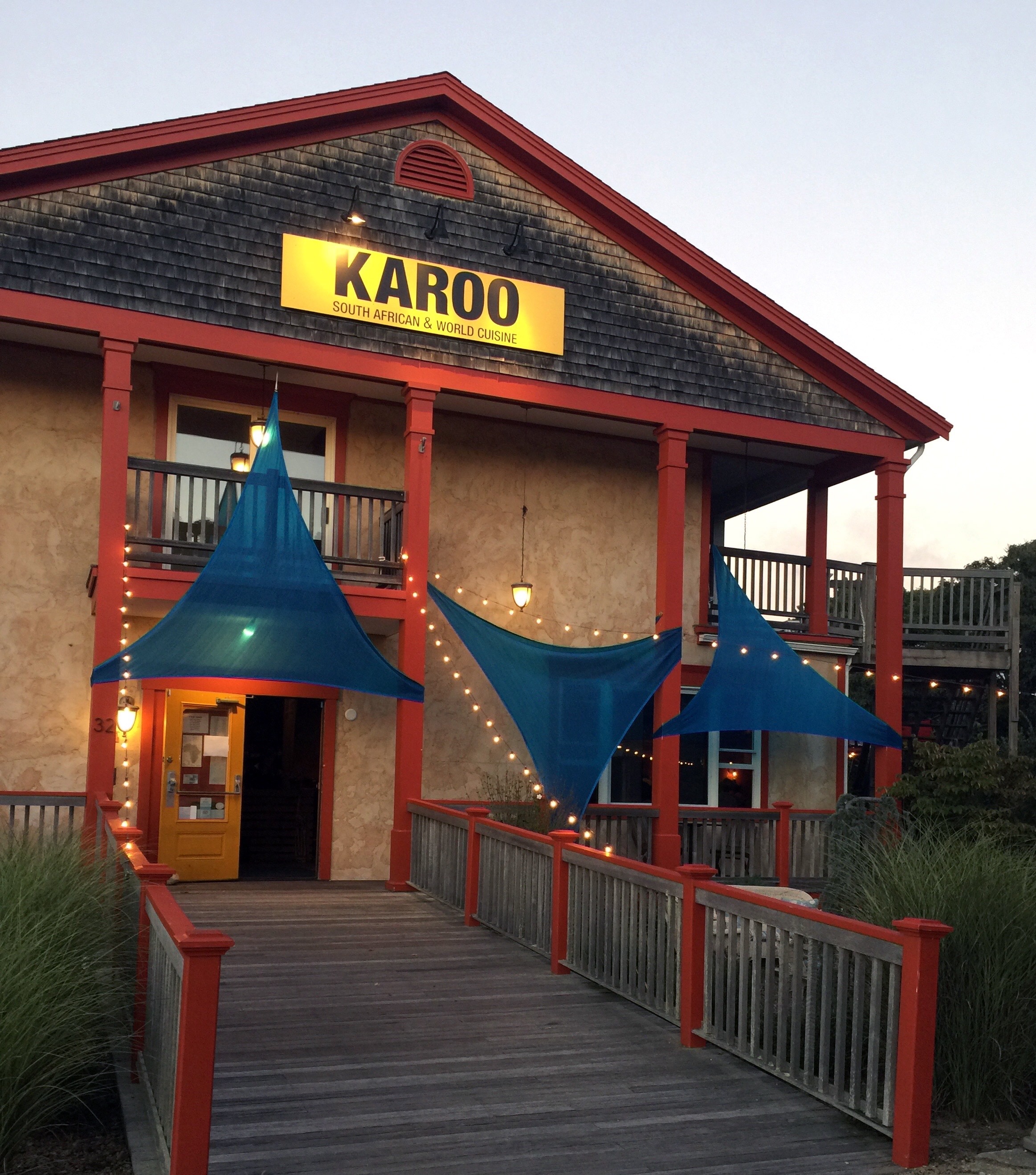 It had a very warm and inviting ambiance, with masks and tapestries on the wall. Sitting at the bar, I ordered a mocktail called Rock Shandy with bitters, club soda, and orange, lemon and lime, slices. I then had some West African peanut soup, followed by vegetable pakoras (spicy vegetable fritters). West African peanut soup is so delicious and comforting, and used to be one of my favorite things to get when I lived in Dakar, Senegal for a month in college. For some reason, I wasn't particularly hungry so I didn't get anything else but if I was, I would have gotten the Cape Malay Stew – curried vegetables with coconut milk served over turmeric rice.
Bikram Yoga
I woke up early Saturday morning to go to Bikram Yoga Brewster, about a 16-minute drive from my hotel. It turns out that the Cape is actually quite big and it's not always convenient to get from one place to another.
Bikram Yoga Brewster is a nice studio with hardwood floors and big windows that let in the morning light. There were only about 6 of us in the class, which allowed us to get extra feedback and attention.
As I was preparing to leave, I got drawn into a conversation with some of the students about the seals and sharks that come close to shore on the Atlantic side of the Cape. One of the women warned me not to go swimming if I went on the Atlantic side, which I had planned to do. This turned out to foreshadow a tragic event that happened later that day in the same town where the wedding was held (more on that later).
After Bikram Yoga, I stopped at a healthy fast food takeout restaurant called Karma Foods, where I got their "garden zest" green juice and some tofu scramble. It was conveniently located since it was a 1-minute drive from Bikram Yoga Brewster.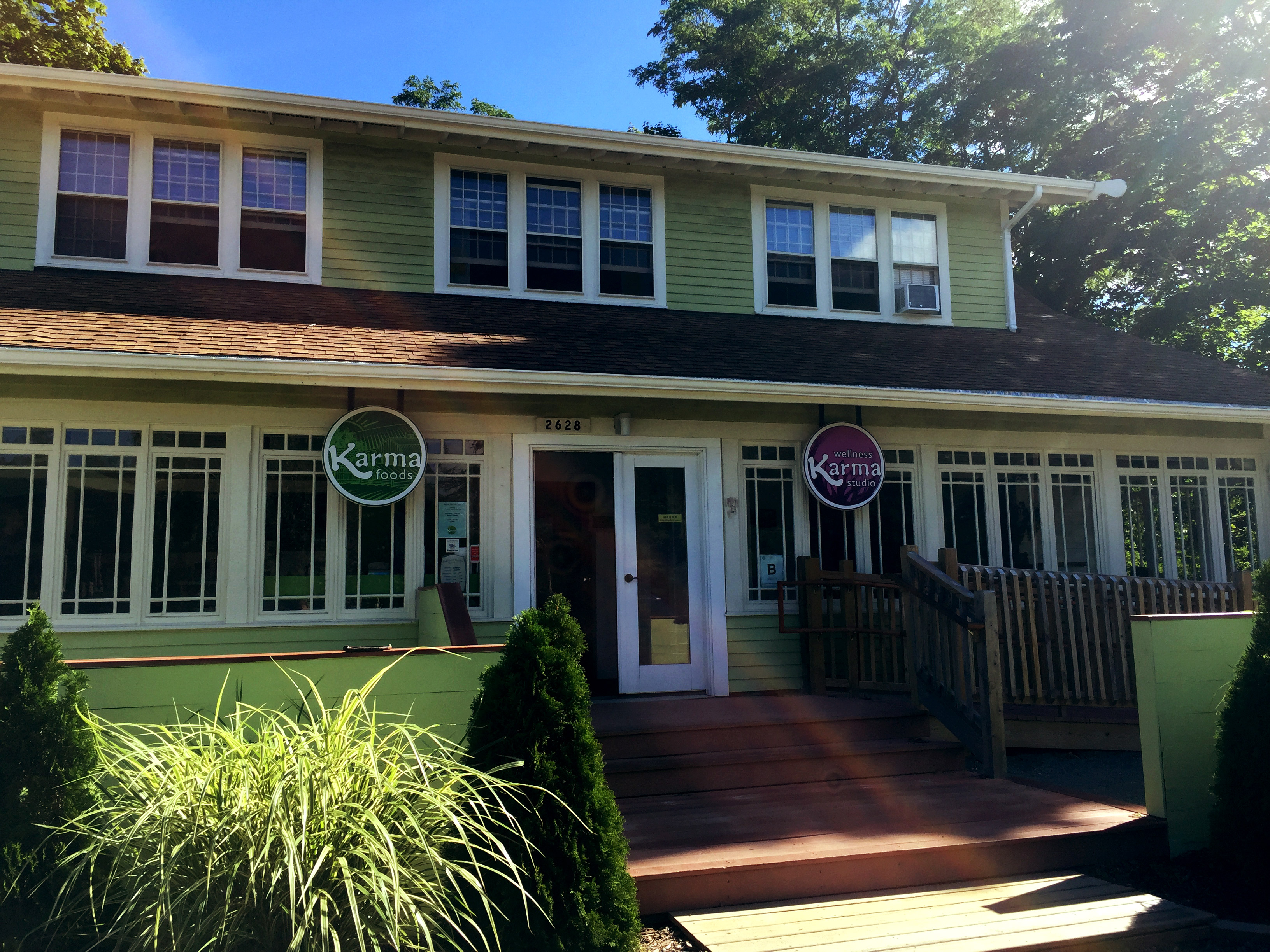 Across the parking lot from Karma Foods is Great Cape Herbs store, which was in the back of a coffee shop called Snowy Owl Coffee Roasters. I've recently been drawn to working with herbal teas and tinctures to address some health issues I've been dealing with, so I wandered in and explored the shop. It was a rustic store that felt like it was straight out of a medieval fantasy novel, with an apothecary of herb tinctures, as well as essential oils, loose-leaf teas, lotions, and a wide array of crystals – including crystal pendants and other jewelry. I talked a little with the owner, who told me a bit about her passion for plant medicine.
Many things caught my eye – including catnip tea, pine essential oil, and a citrine crystal. But I left without buying anything because I had decided before the trip not to make any unplanned purchases. This I kind of regret because in general, I try to make a point of supporting small businesses and it would have been nice to come back with a few things from the trip.
About a 7-minute drive away from the Four Points Eastham was Coast Guard Beach, which is literally run by the Coast Guard. Upon getting there, I was directed to another parking lot, where we had to get our of our cars and take a trolley.
Before we got on the trolley, the coast guard officer driving it warned us that it's federal law to stay 150 feet away from the seals and that sharks were a possibility. Someone asked him what we should do if we saw a shark and he said, "warn other people" in a joking tone. Of course, none of us knew what was happening just then in Wellfleet, about a 20-minute drive north.
At the beach, I heeded my fellow yoga students' advice and chose not to go swimming. While I snacked on Cape Cod potato chips and read a book, I happened to hear an odd noise that I identified as the sound a seal makes (I probably wouldn't have been able to pick that up if I hadn't watched so many nature documentaries). I looked up, and sure enough, there was a seal swimming about 15 feet away from shore. I wasn't able to get a good look because he or she quickly swam off, but I wished I had brought the binoculars my grandfather, an avid bird-watcher, left me when he passed away. However, I hadn't realized prior to my trip that seal sightings in Cape Cod were that common as the other times I've been there I've stayed on the bay side.
Shark attack
Around the time I got to Coast Guard beach, a 26-year-old man named Arthur Medici was attacked by a shark in Wellfleet (about a 20-minute drive northwards). His friend brought him to shore and he was taken to the hospital, but he had lost too much blood at that point. It was the first fatality in Cape Cod from a shark attack in over 80 years.
I was reminded of my film review of The Shallows, where I critique the film in the context of the fact that humans kill 2 millions sharks for every shark that kills us. While I still stand by that review, this incident was a reminder that shark attacks do happen, albeit very rarely, and we should be cautious when we go swimming in areas where sharks have been known to swim.
Since becoming federally protected in 1972, the seal population now in Cape Cod has rebounded to about 30,000 which is great – however, that also means that sharks may be nearby. I also wonder if global warming and rising sea temperatures have caused changes in the gulf stream, causing more sharks to swim further south.
It turns out that humans are not preferred prey for sharks, but that they may decide to try us out. The main problem with this is that one bite can be fatal. Contrary to how they're portrayed in films like Jaws and The Shallows, they may maul us but they will not go to all sorts of extremes to kill us.
When talking to people about Medici's death, I was heartened to see people not expressing resentment towards the sharks – as was the case in The Shallows, where the shark was made out to essentially be evil. Overall, I got the impression that they viewed the situation as basically something that happened – no one's fault, just an unfortunate tragedy.
However, I did pick up some misothery (contempt towards animals) from a few people towards the seals, with someone telling me that they hated seals and that they were "dirty." And recent reports indicate that while people seem to respect sharks' right to be there (this could be because of shows on the Discovery Channel and Shark Week), they think the seals' population has gotten out of control. Some, including county commissioner, are saying that a culling of the seals is overdue. By the way, bludgeoning is the most common means of killing seals, and anyone who's seen footage of seals being clubbed would know that "culls" are chilling and heartbreaking.
I found the idea of bludgeoning seals to death so that we could go swimming on the ocean side of Cape Cod to be speciesist, as well as ironic because we humans are actually the ones who are in population overshoot and are destroying the ecosphere. In 1900, the world population was 1.6 billion – now it's 7.6 billion. Meanwhile, 50% of wildlife on the planet has died off in the past 40 years due to our consumption habits. We're now in the biggest mass extinction since the meteor that killed off the dinosaurs hit the earth, leading experts to refer this time as the Anthropecene, or the era when humans are having a significant impact on the earth's ecosystems and geology. However, we do not float around the idea of "culling" humans (nor should we).
The fact that the seal population has rebounded in Cape Cod, while in other areas of the world iconic animals like the white rhino of Kenya and the vaquita of the of Mexico / California are on the brink of extinction, should be something we feel good about. But instead they're now being begrudged by some their right to share the ocean and beaches with us.
Though as a society, we may think the world revolves around humans, the truth is that we are just one species in the web of life. Nature is not just oceans, beaches, rocks, and trees – it's wildlife too. Other animals bring vitality, mystery, and wonder to our world, which is why most children's books, movies, and toys are inspired by them. Life on earth without other animals would be lonely and uninteresting. Rather than have an antagonistic attitude towards the seals, we might consider cultivating a sense of kinship with them. This is something that children naturally have, but that we tend to lose as we get older due to cultural conditioning. As to the matter of swimming in places where sharks have been known to swim, my perspective is that we can either choose to go another beach that doesn't have sharks or take our chances being made aware of the risks.
Wedding
The wedding was held at Chequessett Yacht & Country Club, which was elegant but relatively low-key. The ceremony was on the beach, drinks were in the boat house area, and the dinner was in the country club overlooking the gold course, and we returned to the boat house for dancing. Golf carts drove us back and forth from the two alternating venues.
I'm fairly sure I was the only vegan there, but there were a few other people with food restrictions such as being egg-free, pescatarian, and gluten-free. The waitstaff had been advised that there was someone with a food restriction at my table and she told me that there were options for me on the buffet line. There were lots of vegetable sides to choose from, as well as salad, and baked potatoes – more than enough to fill my plate with. When I first became vegan, I had to tell people before events like these that I probably couldn't eat the main dish, but now I've been vegan for so long and my close friends know veganism is my passion so I don't need to remind them.
It was a fun evening and I enjoyed celebrating my friends and connecting with people. My only regret is drinking too much. Like most people, I have a tendency to drink more than I normally do at weddings. For me, the main issue with this is the hangover I feel afterwards, and that it can take me a few days for me to get back to feeling like myself. I'm now thinking maybe next time I might not drink at all – though a part of me wonders how one survives weddings sober, especially when everyone else is drinking… I don't have the answer to this yet, but I have some time to mull it over before my next wedding.
That was my trip in a nutshell! On a side note, I've recently been listening to the audible version the RFK Jr.'s memoir American Values which I recommend. RFK Jr. is a long-time environmentalist whose appreciation for nature was instilled in him as a child partly due to his summers on Cape Cod at the Kennedy compound.