The Caribbean as a whole isn't an easy place to be vegan, but I wouldn't say it's particularly hard either. It's all about perspective and preparation. If you bring vegan snacks and know that you're options will be limited there, then you will likely be pleasantly surprised and not disappointed when there's nothing even remotely vegan on the menu and you're forced to improvise.
My aunt, uncle, and cousins have been going down to Anguilla for many years, and my parents and I decided to join them for a week. Of all the 6 restaurants we went to when we were there, I was always able to get something and it was usually tasty. Regardless, I didn't care that much because I went there to enjoy the beaches there and spend time connecting with my family, not to eat.
The airport
We flew out of the relatively new Jet Blue Hanger at JFK, where unlike most other airline hangers, it's possible to get healthy food. They sold Runa Zero at several of the food and drink stores there, so I was able to get 7 bottles to help me sustain my Runa addiction while I was in the Caribbean. I brought tea bags just in case, but drinking Runa iced tea bottles is one of the highlights of my morning, and I like to keep the bottles organized in geometric configurations next to my bed.
The Jet Blue hanger has a Jamba Juice, and the line there was huge, which just goes to show how eager people are these days to eat fresh, plant-based foods. Jamba Juice's smoothies are pretty sugary, so I got a double-shot of wheatgrass and a bowl of oatmeal topped with blueberries, almonds, and shredded coconut. It was delicious and totally hit the spot!
Snacks
As I usually do when I travel, I came to Anguilla prepared – even more so this time. Anguilla and most islands in the Caribbean are less vegan-friendly than places in the US and there tends to be a lower availability of fresh produce. People typically like to eat fish when they come to the Caribbean, so most menus are very seafood-focused.
Similar to what I packed when I went to CR, I brought:
A few mornings for breakfast, I combined a Vega Protein packet with a Garden of Life Greens Packets in a bottle of water to get in some healthy protein with other nutrients and alkalizing greens.
One day, I mixed my Garden of Life Genessential Greens Packet into a virgin strawberry daiquiri from the bar at the beach. The tartness and sweetness of the strawberry daiquiri completely hid the bitterness of the greens. This turned out to be a great way to sneak in my greens while also enjoying a refreshing, tropical drink!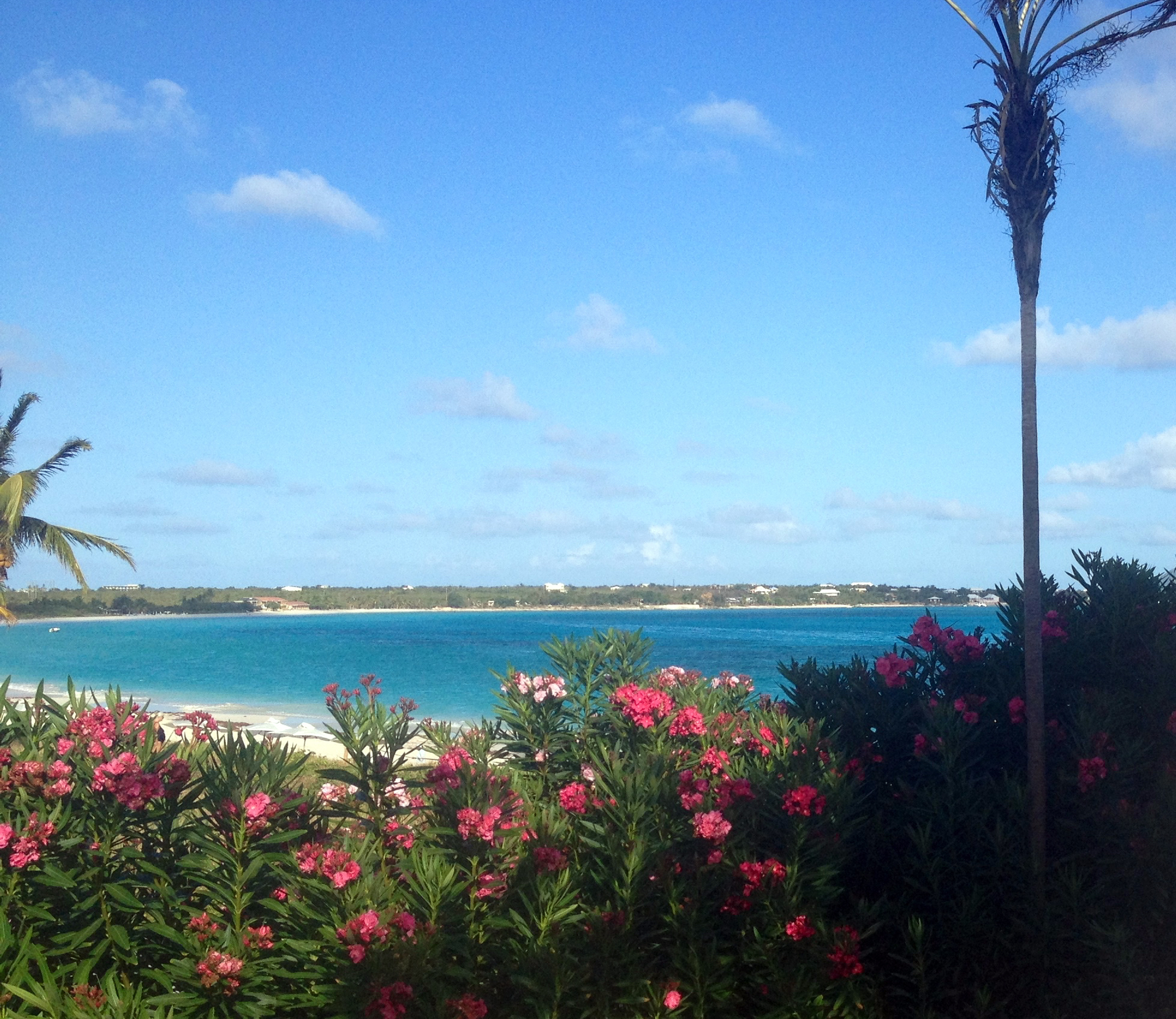 Restaurant food – ordering off the menu
Though a few restaurants actually had vegan entrées on their menu, most of the time I had to order off of the menu or improvise. Because I was usually with a big group of people, I didn't want to cause a scene, so I'd wave the waiter over and give them my spiel: I'm vegan and don't eat any meat or dairy, was there a vegetable dish that they could throw together for me? The answer was always yes, and for the most part the dishes were pretty good, if a bit lackluster. The dish usually consisted of roasted vegetables over rice, or sautéed vegetables and a baked potato. A few times I even got some beans in there. This was all fine because I had low expectations, as I usually do when going to non-vegan restaurants.
A few times, my uncle tried to get us to go to this barbeque shack called Smoky's, but I managed to steer us in another direction, by continually suggesting that we return to this veg-friendly beach spot called Blanchard's. Disaster averted! I know that if we had gone to the barbeque shack I wouldn't have been able to find anything, but if necessary I would have just had some of my snacks instead.
Restaurant highlights – lunch
Blanchard's Beach Shack – On two separate occasions, we went to a popular beach shack attached to Anguilla's most famous restaurant, Blanchard's for lunch. I got a "big bowl" with rice, vegetables, and black beans.
The Half Shell – Another day, my thoughtful aunt went to the Mediterranean café at the Four Seasons resort called the Half Shell, where she got me a huge platter with this super-fresh and delicious Mediterranean food – roasted eggplant, carrots, hummus, eggplant tapanade, and olives. I put it in the fridge when I got back to my room and had some of it for breakfast and as a snack the following day. We all enjoyed eating some of the Half Shell's tasty hummus with some pita bread one night while we were having pre-dinner drinks.
Restaurant highlights – Dinner
Cuisinart, Le Bistro at Santorini – After telling the waiter I was vegan, I was pleasantly surprised when she pointed to a vegan entrée on the menu that looked awesome – "Trio of cauliflower, quinoa, and whole roasted sweet onion." I always get so excited when I see vegan items that are actually on the menu of otherwise mainstream restaurants, because I can tell you that this phenomenon did not exist when I became vegan. The fact that more and more restaurants are making the effort to put delicious vegan items of their menu shows that chefs are catching on to the fact that veganism is a rising movement, and that they're eager to accommodate us.
My vegan dish was beautifully presented and was delicious. It may have been the best food I had while I was in Anguilla, leaving me very impressed with the "cuisine" at Cuisinart.
Blanchard's – My parents and I went back to Blanchard's to eat at the regular restaurant one night. I was elated to see that they, like Cuisinart, had a vegan item under their entrées – this time called Spicy Vegetables. It consisted of quinoa, red and green peppers, and a very spicy sauce which was great for me, because I love spicy food. I was also interested to see that the couple that runs Blanchard's are very committed to sustainability. They have special tablecloths that can be wiped down instead of having to be washed, and they donate a portion of their proceeds to a children's charity in Anguilla, not unlike a Benefit (B) Corporation.
Picante – On the second to last night, we went to this wonderful Mexican restaurant. I was very happy about this, as I love Mexican food and Mexican restaurants are always very vegan-friendly. We shared some chips and guacamole, and I had the veggie burrito with peppers, onions, salsa, refried beans, and rice.
Hydroponic Farm at Cuisinart
Like many Caribbean islands whose main industry is tourism, Anguilla imports all of its vegetables from North America or Europe, and the lengthy time required to ship the vegetables can compromise the quality. It's also expensive to transport them, which is why the vegetable dishes I ordered at restaurants were often comparable in price to the meat and fish.
Cuisinart Anguilla is owned by – you guessed it – Cuisinart, the kitchen appliance brand. Not surprisingly, the hotel takes great interest in the quality of the food they serve. Wanting to offer the freshest ingredients for the guests, the hotel had the brilliant idea to create their own vegetable farm using hydroponics. Hydroponics uses recirculation systems and drip irrigation, thus providing an ideal solution to the challenge of Anguilla's non-arability and the lack of fresh water.
Now they grow most of their vegetables in their greenhouse that has been built to withstand hurricanes. In the 18,000 square foot climate-controlled greenhouse, they grow lettuce, bok choy, tomatoes, cucumbers, and peppers.
To be honest, I still don't totally understand exactly how the drip irrigation system works, but it seemed to make the vegetables have a more fresh and dynamic. When we first got there, our rooms had bowls of fresh tomatoes from the farm, and they were by far the most delicious tomatoes I had ever had. It was also nice knowing exactly where the food I was eating came from, and that it was cultivated so thoughtfully.
In addition to the hydroponic farm, Cusinart has an organic garden with fruit-bearing trees – Caribbean callaloo, black-eyed peas, peppers, chinese long beans, pumpkins, okra, soy beans, and tomatillos. The orchards produce avocados, guavas, tamarins, oranges, lemons, limes, star fruit, and breadfruit.
Props to Cuisinart for bringing this system to their hotel – other hotels in the Caribbean are really missing out by not having similar farms.
Other highlights
Beaches – The beaches at Anguilla are exquisite, with fine white sand and very clear water. The shallow areas of the water are a brilliant aquamarine color that contrasts against shades of royal blue where the coral reefs are. The beach at Cuisinart, where we stayed, had the most hypnotic and soothing surf sound I've ever heard – loud, but not too loud. Our beach was very windy, but the breeze actually felt really nice, especially since it was pretty hot.
In addition to hanging out at that beach, we visited Cap Juluca and Shoal Bay, which in my opinion were equally beautiful in their own unique way. 
Trail running – When I travel, I love to take the opportunity to exercise in the outdoors. On my first day there, I did some kundalini yoga on the beach, followed by running up and down the beach (about 1.5 miles) with my trail running sneakers from Montrail. The beach was very flat, making it easy to run on and there was almost no one there since it was slightly overcast that morning.
Because I hadn't been trail running since last summer, I remembered how much I love my Montrail sneakers. They're super lightweight – the lightest sneakers I've ever worn – making it feel almost like you're flying as you're running. If you ever decide to do trail running on a beach, I definitely recommend getting trail running sneakers, as running in the sand with regular sneakers is really hard and not as enjoyable.
Swimming – The other days, I swam in the ocean for about a half an hour – another great workout. Fun fact: swimming in the ocean has great health benefits. Seawater contains health-enhancing and immune system-boosting vitamins, mineral salts, amino acids, and negative ions, all of which are easily absorbed by the skin.
Sunset – We saw a few beautiful sunsets at the Four Seasons' Sunset Lounge, an open air bar and dining area. The drinks were a bit pricey but worth it for the swanky ambience and optimal sunset views. After the sun sets, these huge bird-like fireflies flit around which is really cool.
Boat Tour – My cousin's friend, who does boat tours of Anguilla, picked us up one afternoon and we had the most amazing tour of the island while drinking rum punch. A boat tour is probably the best way to see the island because of the interesting rock formations that can't be seen from land.
Conclusion
Overall, I'd say the food that the vegan food I ate at Anguilla's restaurants ranged from excellent (Le Bistro at Santorini, The Half Shell, Blanchard's, and Picante) to a bit boring (the other restaurants we went to). Because I had kept my expectations low, I was okay with dishes like sautéed vegetables and potatoes, and felt very appreciative when the restaurants who were hip to the vegan movement had thoughtfully-created vegan entrées.
Being vegan is much easier than most people think, but it does take sticktoitiveness. I could have given up when I saw that there were no vegan items on the menus of the restaurants that I went to in Anguilla. Still, the idea of adjusting my lifestyle and beliefs just so I won't have to order off the menu never enters my mind in such situations. I know that if I had eaten a regular diet when I was down there, as I did when I used to go to the Caribbean prior to becoming vegan, I probably would not have felt as great physically and wouldn't have enjoyed myself as much because of the guilt I'd be feeling for contributing to the supply and demand of animal products.
Reference Links
Recommended restaurants: Le Bistro at Santorini – Cusinart, Blanchard's Beach Shack and Restaurant, The Half Shell – Mediterranean restaurant at the Four Season, and Picante Mexican Restaurant
Boat tour of Anguilla: Sea Pro Charters
Hydroponic Farm at Cuisinart
Dr. Howard M. Resh, creator of Cuisinart's Hydroponic Farm