As someone who embraces the concept of minimalism, I was excited to check out the natural personal care brand Akamai and try their Essentials Kit.
Mainstream personal care products are definitely not minimalist in the sense that they contain unnecessary chemicals that pollute our bodies and the environment. Some of these eco-nasties include phtalates, parabens, fragrance, and triclosan – all listed as potentially hazardous by the Environmental Working Group's Skin Deep Database.
Another problem with mainstream personal care products is that they're marketed us to in a way that makes buying them more complicated and expensive than it needs to be. Advertising has managed to convince most of us that we need a different product for each specific aspect of personal care. And the more products we buy, the more we put a dent in our wallets, the more clutter we add to our homes, and the more we add to our ecological footprint.
Akamai sidesteps these issues with a streamlined approach to personal care. Their unisex line incorporates quality natural ingredients into products that multitask.
Here's what you get in their Essentials Starter Kit:
Loaded with some of the most effective ingredients for supporting healthy gum tissue and remineralizing teeth, this toothpaste has a fresh taste without being sweet. Sweet toothpaste can increase calcium in the mouth, contributing to tartar formation. Akamai's toothpaste favors the Ayurvedic perspective that astringent and bitter tastes strengthen the gums while also killing bacteria. More than just a toothpaste, this product also be used as a breath freshener, acne treatment, and face mask.
Because many of us are used to sweet, white-colored toothpaste with foaming action, Akamai recommends trying their 2-week challenge to get accustomed to their formula. I personally came to like the taste and after a few weeks, I noticed that my teeth seemed to feel stronger.
Ingredients: Distilled Water, Bentonite Clay, Kaolin Clay, Extra Virgin Organic Coconut Oil, Trace Mineral / Fulvic Acid / Amino Acid Concentrate, Mined Sea Salt, Essential Oils of Peppermint, Cinnamon, Clove, Anise and Tea Tree, Liposomal CoQ10
Soap, shampoo, and shaving gel in one fragrance-free bar that gently cleanses, while creating a rich foamy lather. Whereas many natural soaps can tend to be drying, this bar is nourishing and moisturizing.
Ingredients: Saponifed Roundtable on Sustainable Palm Oil (RSPO) Certified Palm Oil, Saponified Coconut Oil, Water, Glycerin, Sodium Chloride, *Shea Butter, *Extra Virgin Cold Press Olive Oil, *Jojoba Oil, Jamaican Black Castor Oil, *Vitamin E (non GMO), *Argan Oil, Sodium Gluconate, Rosemary Extract (*Certified Organic)
Lightweight but potent, this oil doubles as a hair and skin moisturizer and has a faint gender-neutral rosemary scent. A little goes a long way!
Ingredients: Fractionated Coconut Oil (hexane free), Organic Golden Jojoba Oil (cold pressed, unrefined), Certified Organic Extra Virgin Olive Oil (cold processed and unrefined), Certified Organic Argan Oil, Trace Mineral / Fulvic Acid Concentrate, Rosemary Essential Oil (therapeutic grade)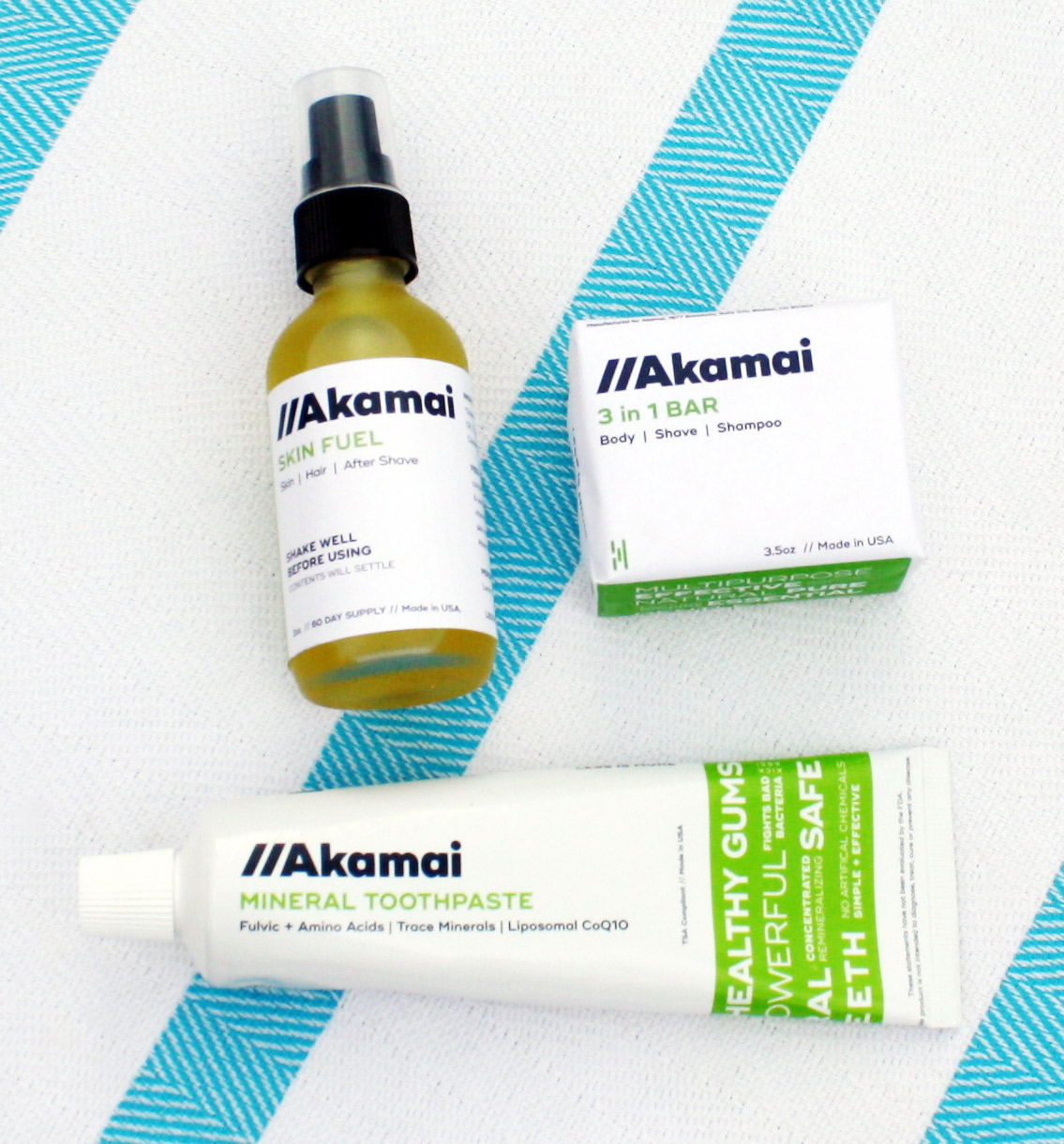 Wondering what the word "akamai" means? It's the Hawaiian term for smart, intelligent, and clever. Indeed, using products that are simpler and natural, without negative consequences for our own health and that of the environment is the wise choice. If your interest is piqued, go ahead and check them out!