Fresh, filling, tasty… and above all easy. This chickpea flour omelet / crepe takes about 5 minutes to make and is a perfect breakfast, lunch, brunch or dinner.
Chickpea Flour Crepe / Omelet with Arugula and Vegan Cream Cheese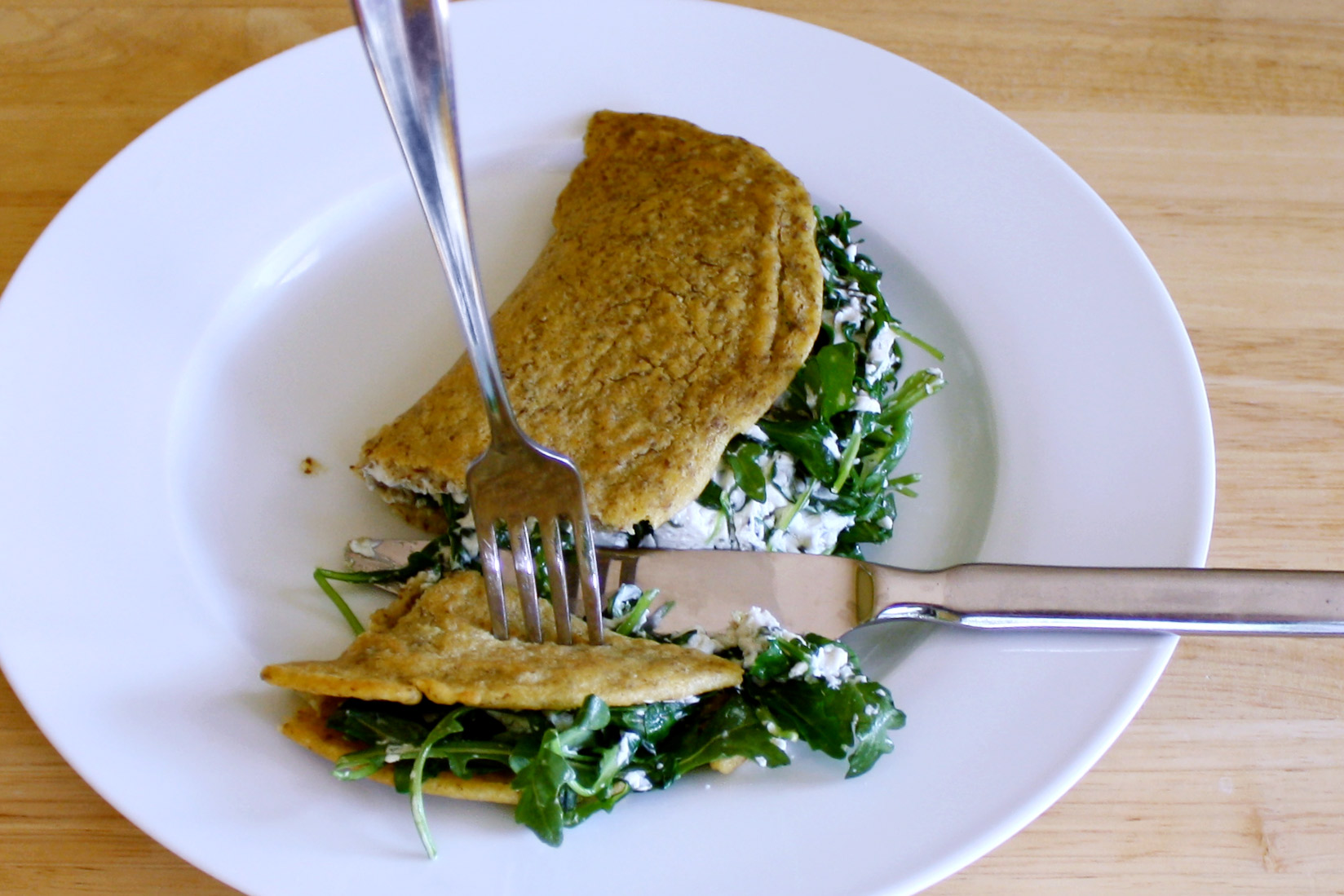 Fresh, filling, and tasty chickpea flour crepe / omelet. Vegan and gluten-free, takes just
a few minutes to make.
Yields: Serves 1
2 tbsp extra virgin olive oil
1/3 cup chickpea flour
1 tbsp ground flaxseed
A pinch sea salt
1/2 cup water
A few handfuls of baby arugula
1/2 container Kite Hill Chive Cream Cheese or other vegan cream cheese
Whisk together dry ingredients (chickpea flour, ground flaxseed, and sea salt), then add water and whisk until smooth.
Heat 1 tbsp extra virgin olive oil on a non-stick skillet over medium high heat. Add chickpea flour batter to the middle of the pan. I like to tilt the pan around so that the mixture gets thinned out a bit. Let it cook for a few minutes or until firm, then carefully flip over and cook the other side.
Meanwhile, add 1 tbsp olive oil to a skillet over low heat, along with the arugula and cream cheese. Heat until just warm.
Add the arugula / cream cheese mixture to 1/2 of the crepe, fold, and serve! You are now done.
Preparation time:

1 minute

Cook time:

5 minutes

Total time:

6 minutes