Grounding, filling, earthy, comforting… these are some of the words that come to mind when I think about potatoes. In my opinion, these's no better snack or (really) lazy dinner than some baked potato slices.
Like most others, I had been raised thinking that potatoes were empty, fattening calories. However, when I began trying intuitive eating a few years ago, I started to sense that they weren't as bad as they had been made out to be. It turns out that potatoes are actually good for us. They contain high levels of fiber and are packed with nutrients.
The main reason that potatoes get a bad rap is that they are usually prepared with dairy products and served with meat-heavy meals such as cheeseburgers, which both have lots of saturated fat and cholesterol.
Some of the beneficial nutrients contained in potatoes include potassium, folate, the anti-inflammatory flavanoid quercetin, iron and phosphorous, and vitamin C. Potatoes are also especially rich vitamin B-6, which is important for mood and hormone regulation, immune system support, and heart health.
One thing to be aware of is that potatoes are on the dirty dozen list, which is comprised of the fruits and vegetables that are the most heavily sprayed with pesticides. I will admit to having eaten my fair share of conventionally-produced potatoes, but I do my best to eat organic ones.
Toppings, and dippings
Most of the time, I just sprinkle some Herbamare (herb-infused sea salt) on my potato rounds. But there are an infinite number of ways you can enjoy them. Here are some ideas:
Herbal seasonings
If you want to jazz the potato rounds up a bit, sprinkle one or more of these herbs on before you put them in the oven.
Rosemary
Cumin powder
Chili powder
Garlic powder
Onion powder
Toppings
Vegan sour cream. I use unsweetened dairy-free yogurt, which tastes just like sour cream.
Avocado slices
Dipping
Potato Rounds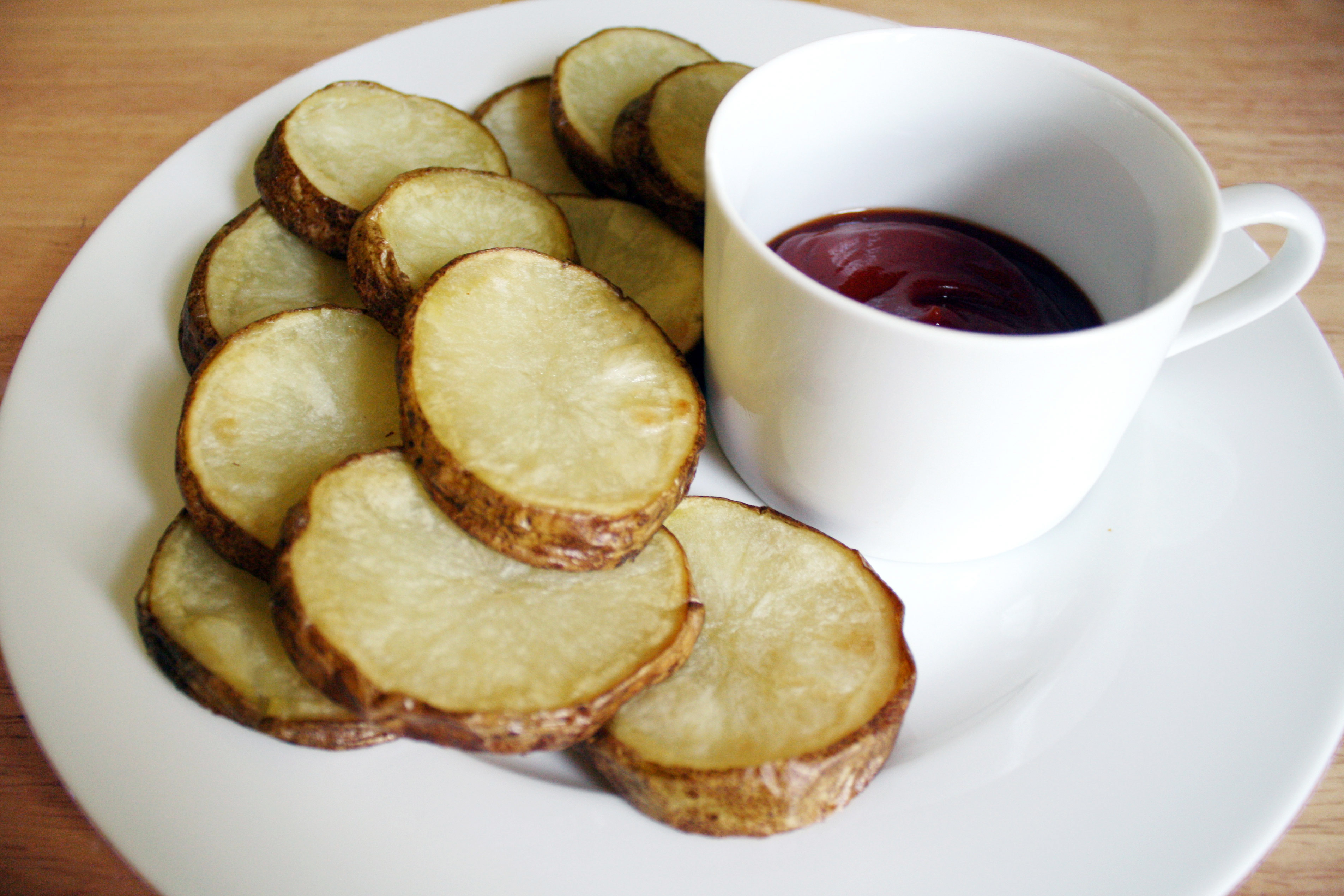 Vegan baked potato slices. Make a delicious, filling, and comforting side or light meal.
Yields: Serves 1 person as a light meal / heavy snack ; 2 people as a side
2 organic Idaho potatoes
Extra-virgin olive oil
Sea salt or Herbamare
Pre-heat the oven to 350.
Slice the potatoes into thin rounds.
Coat a baking sheet in a thin layer of extra-virgin olive oil (about 2 tablespoons).
Place the potato rounds / slices on the baking sheet.
Turn them over and slide them around to get olive oil on both sides of the potato rounds.
Sprinkle potato rounds with sea salt or Herbamare, and other herbs or spices if desired.
Bake for about 1 hour, or until slightly browned and crispy.
You are now done. Enjoy!
Preparation time:

5 minutes

Cook time:

55 minutes

Total time:

1 hour