This past October, I had been anticipating how difficult the winter was going to be and was thinking that a trip to somewhere like Costa Rica would be an ideal way to buffer my seasonal affect fisorder. I hadn't been anywhere warm during the winter for 4 years and I knew that getting away would make the winter less grueling. I learned a while back that I need to be around nature in order to preserve my sanity and well-being, and around February, it gets to the point where weekly walks in Central Park just aren't cutting it any more.
One morning, I did a few google searches for "yoga retreats in Costa Rica February." Literally, that same day in my Bikram yoga class, my instructor announced that he was leading a Bikram yoga retreat in Costa Rica in late February. I was blown away by the synchronicity of it and after learning about the logistics of the trip, I was in. For a yoga vacation in Costa Rica, the trip was reasonable in terms of cost and overall a great investment because it gave me something to look forward to and when it came, it was an amazing experience.
The (vegan) food I ate
Costa Rica is actually a pretty vegan-friendly country as Gallo Pinto – rice, beans, and cilantro – is one of their staple dishes, as well as guacamole and tortilla chips. They also have tons of fruit such as papaya, plantains, etc., which I normally don't consume that much of because sugar triggers my cystic acne. But because I was doing so much Bikram yoga, I didn't break out at all.
Most of the days, breakfast was before our Bikram yoga class. I had learned the hard way a few months earlier that I can't eat within an hour and a half- 2 hours before a Bikram yoga class without getting nauseous and dizzy. On the days when breakfast was before yoga, I would skip breakfast by sleeping in and just having my Runa tea. The few times we had breakfast after yoga, however, I was able to have some delicious Gallo Pinto and watermelon – an awesome breakfast combo!
After or before yoga every day, the trip leaders made either a refreshing smoothie or some juice. One smoothie in particular I remember being really delicious – it was soy milk, papaya, pineapple, and plantains.  Another time we had some papaya juice, which was very refreshing and much less sweet and sugary than I would have thought, and the day after that we enjoyed some really great green juice with ginger.
Every morning, a nice guy on the kitchen staff would ask for our orders for dinner and lunch. After I clarified with him that I couldn't eat meat or dairy, he was able to help me figure out a dish that was vegan. Most of the time, it was a version of what other people were having without meat, for instance: rice, beans, guacamole, and tortilla chips. I did have the option several times to have a vegetarian penne dish, but because I try to avoid gluten, I chose not to have that.
As I was the only vegan person on the trip, there were some snags. One night for instance, the kitchen staff made burgers and pizza, and forgot to make me some rice and beans, so I had to re-ask them when dinner was being served. It was a bit awkward, but I held my ground and I would have been content to just eat french fries if that was what it came down to.
Although I knew Costa Rica was [mostly] vegan-friendly, I had of course packed some vegan snacks just in case. I took: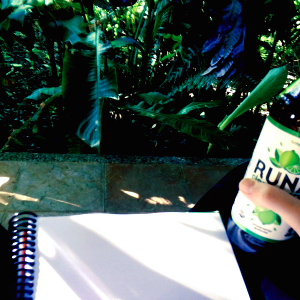 I wound up devouring most of the Treeline Cashew Cheese during Sunday, which was the day I left. It served as my meals on the flight and when I arrived at my hotel room at 1 am Monday morning – due to the bad weather, my flight had been cancelled and I had to get a later flight than had been originally planned. At the airport, I was able to get some sautéed broccoli and olives at restaurant near my gate. I was also thrilled to find that they sold bottles of Runa Zero at the airport. Anticipating that I wouldn't be able to buy it in Costa Rica, I had brought a box of Runa tea sachets. I prefer the bottles, because I usually just want my tea without having to boil water in the morning, but the tea sachets still do the trick when it's necessary. I bought 6 bottles, one for each day I was there and I didn't have to give up my high maintenance addiction!
Although I did have 2 of the Vega All-In-One Packets, I didn't use any of the Garden of Life Greens packets. I'm not sure if it was because I didn't have enough time – we were constantly doing stuff – or because it doesn't taste that good. I also only had 2 rice cakes with nut butter, which precipitated me getting sick. I knew that it couldn't have been the rice cake and nut butter combo that got me sick (it was probably drinking the water or just acclimating to the environment), but I couldn't eat the rice cakes and nut butter after that.
In terms of alcohol, I definitely went over my normal standard of drinking no more than 3 nights a week. Because I was on vacation and wanted to have fun mingling with the people there, I would have two glasses of wine or a few margaritas each night – one right before dinner and one during. However, since we were doing so much detoxification through the daily Bikram yoga classes, I didn't break out or gain weight as I would have normally.
The yoga
I've been doing hot power vinyasa for about 4 years, but I didn't take my first Bikram class until last year. I tried it because I was curious to see what the difference was between hot yoga and Bikram yoga, and was at first turned off a bit by the fact that there was no music, and that the instructor seemed to be reciting a script, which he was.
I ultimately came back and started taking more classes because I found that it was a nice way to get in a sweat and a workout without all the rigorousness of hot power yoga and spinning. I also liked that it was hotter and more humid, allowing me to sweat and detox more. Around October when I learned about the retreat, I was in the rhythm of going about once a week. When I knew I would be going on the retreat, I started to step up my game and go twice a week. Around December, it became more of an addiction. I noticed that I felt even better after Bikram yoga than after spinning or hot power yoga. I also observed a lot of changes in my flexibility and posture, as well an increased ability to do some of the poses in my hot power yoga classes. Finally, I found that I could focus more on and off the mat, and that I felt more at peace and less anxious on days when I practiced it.
The leaders of the trip had imported space heaters to make the yoga room at the hotel hot. But because there was already so much readily available heat and humidity in Costa Rica (the locals thought we were crazy), they didn't need to have to have more than one or two on. The temperature was actually perfect during our classes. It seemed a bit more humid and a little less hot than regular hot yoga, and we all felt incredible afterwards.
We practiced every morning around 9 am, after being led through a guided meditation. In the evenings, we would have a workshop. The first night we learned about the history of yoga, which has inspired me to listen the Audible version of Autobiography of a Yogi, and watch the new documentary about Paramahansa Yogananda called Awake.
Our instructor talked about the four qualities that are required for Bikram yoga: concentration, patience, determination, and self-control. Hearing about these qualities reinforced my own insights I had arrived at about how to get better at Bikram yoga. If you're really going to push yourself and do your best, you need to: focus as much as possible and be fully in the moment; persist even when you feel like giving up; believe in yourself and think that you *can* do a posture and get better; and not allow yourself to be distracted by the other students. Like most of the principles of yoga in general, the qualities required for Bikram yoga apply both on and off the mat.
The adventures
Surfing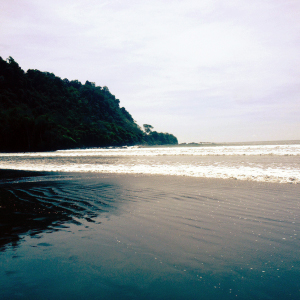 On the second day of the retreat, we took surfing classes at Jaco beach, which is said to be one of the best places in the world to learn how to surf. I had never thought I would surf before (I've always been pretty inept at sports), but just went along with it because I didn't want to feel left out. While I was observing the first group going in, I decided to challenge some of the anxious thoughts that were beginning to arise such as "I can't" and "I'm too weak and uncoordinated." I summoned to mind reasons as to why I could do it, like the good sense of balance yoga has provided me with, and then visualized myself on the board and successfully riding out a wave.
With the help of the teacher, and later an Australian guy from my trip, I was able to get up and ride a few waves to the shore. It was so much fun! And it was such a good example of how we can overcome limiting beliefs by changing our perspective and self-talk.
Ziplining
I was so excited to learn that we were going ziplining, as I had been ziplining before and had loved it. Unfortunately, I got sick in the car on the way there – some GI issue – and by the time we got to the main convening area of the park, I felt like I was dying. I had to lie down on a bench I was in so much pain. Someone gave me three Advil, and the owner of the park, gave me some coconut water straight from a coconut. It would have never occurred to me to drink coconut water when you're feeling nauseous but I later found out that it worked! Coconut water is actually great for digestion as it contains amino acids, electrolytes, and has antiviral and antibacterial properties, which is why it seemed to help clear up my stomach bug. Coconut water straight from coconuts, by the way, tastes amazing and so much different than popular commercial coconut water products. The brands I've found to come closest to pure coconut water are Harmless Harvest and Cobra, but they can be expensive and aren't as fun as drinking straight from a coconut.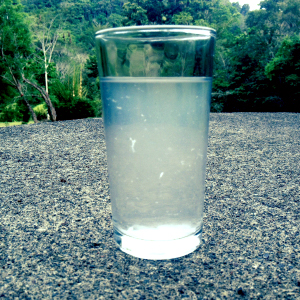 I lay down and took a nap while everyone went on the adventures that had been planned for that day – waterfall rappelling, ziplining, and horseback riding. When I woke up and felt better, I felt so disappointed that I had missed out. I didn't really care as much about the waterfall rappelling and horseback riding, but I was really bummed about missing out on the ziplining.
While everyone was gone, I noticed how beautiful the jungle was. It was extremely lush and wild, but perhaps the most noticeable thing about it was the loudness of the cicadas, which I later learned were called chicharras in Costa Rica. Their noises were the loudest and most high-pitched I had ever heard insects make. The only thing I can compare it to is the sound of crickets and cicadas during the summer – on steroids. At first, the noise seemed to hurt my ears but as I got used to it I started to find it was somewhat relaxing.
I asked the owner of the adventure company if I could come back on my own and just do the ziplining. He said that he would be in our Bikram yoga class Friday, the last day before we left, so he could take me afterwards. That Friday, we had a great conversation on the way back to the jungle. I learned that although he hadn't known my trip leaders at all before they brought us here, he too was a certified Bikram yoga teacher. He had been negotiating rates for us with our trip leaders, when they mentioned something about Bikram yoga and he said, "Wait – did you say Bikram yoga? I'm a Bikram yoga teacher!" and then gave them a lower rate. This is just one example of the amazing synchronicities I observed when I was on this trip. He told me all about creating the park / adventure company and how although it had been hard starting it during the recession, it's now doing well. His vision is to continue expanding it as an environmentally-friendly business in addition to one day building a Bikram yoga studio on the property, and creating a community around that.
When we got there, the family I was supposed to join ziplining had already commenced the ziplining portion of their adventure, so I wound up getting a private tour with two really nice guides. It was so cool going through the jungle with no one else there. The guides pulled unique plants and flowers, including ylang ylang, for me to hold and smell, showed me a chicharra, and pointed out some toucans. It was about 3 pm, and the light was really beautiful.
The ziplining itself was awesome, but scary – especially since the guides teased me a lot (I'm gullible). The views of the jungle were stunning, and I felt very lucky to be able to be able to see it from that perspective. It was a great way to end the trip. I had to miss the workshop that afternoon, so when I got back I ordered some chips and guacamole and went for a swim in the pool.
The people
There were about 25 people on the retreat with ages ranging from mid twenties to seventies. The great thing was that age didn't matter at all – what was important was that we had all come there with a shared intention to enjoy being in Costa Rica, develop our practice, and connect with each other.
One of my favorite parts of the retreat was our nightly ritual of going to the bar before dinner, where we would have drinks and talk. I had some really fun and interesting conversations with the people on my retreat then. I also had a great talk with one of the trip leaders about health and wellness. We discovered that we both love kombucha and exchanged stories about our struggles with our weight, which we were both able to overcome through nutrition and exercise – he credits Bikram yoga and juicing with helping him to get down to his ideal weight.
My mom had advised me before I left that "The time to make up your mind about someone is never." This turned out to be totally true on the retreat. Sometimes we put so much stock in first impressions, and while they can have a few kernels of truth, we have to balance them with making room for new inferences as we get to know people better. For instance, there were some people who at first I thought I had little in common with aside from Bikram yoga, but I eventually really clicked with them.
Here's a summary of the things I learned from my experience in Costa Rica.
Follow your bliss. This is mythologist Joseph Campbell's popular saying, and if you haven't seen The Power of Myth, consider watching it! Part of my bliss is eating delicious vegan food, practicing hot yoga, being in nature, and meeting new people. This trip allowed me to do all of these things, making me feel more inspired and grateful to be alive.
Get out of your comfort zone. Going on the trip alone without having known the most of the people in the group before was a bit out of my comfort zone, as was making an effort to get to know people even though I can be shy. And of course, surfing for the first time when I had told myself I never would was totally out of my comfort zone! If I hadn't done these things, I wouldn't have a. gone on the trip, b. connected with some great people, or c. discovered that not only can I surf but that I actually like it.
Turn negatives into positives. Rather than feeling victimized about getting sick and missing out on the ziplining, I remembered to try and figure out a solution or silver lining. As a result, I got my own great private tour of the jungle and had a much more unique experience. As an experiment, I've decided that I'm going to continue to search for opportunities within problems as part of my day-to-day life in New York.
If you want to learn more about my retreat, here are some of the details:
Yoga Instructor – Joseph Encinia
Hotel – Doce Lunas at Jaco 
Ziplining and other adventures – Ocean Ranch Park at Jaco