Although I don't adhere to a strict macrobiotic diet, I definitely resonate with the idea of having our diets align with the rhythms and cycles of nature and the seasons. In macrobiotic philosophy, spring is the time move away from warming, stick-to-your-ribs food towards more fresh, raw food – particularly salad.
Since I'm personally not a huge fan of salads, and unlike macrobiotic proponents, I do believe in the power of juicing, I have my own formula for transitioning into a more alkaline diet in spring. I continue to mostly eat meals that contain a balance of vegan protein (nuts and legumes), gluten-free whole grains, and cooked vegetables, but I also consume more green juice, which floods my body with alkaline energy and gets my raw quota in there.
During the week, I get my juice from Juice Press, Organic Avenue, or Suja [sold at Whole Foods]. When I have more time on the weekends, I make this juice for which is very detoxifying and helps to shed any extra weight accumulated over the winter. It includes:
Cucumbers – Very hydrating; loaded with vitamin A, which is crucial for eye health; aids with digestion and weight control
Swiss Chard – Superior source of vitamins A, C, and K, magnesium, iron, potassium and fiber
Parsley – Powerful detoxifier rich in vitamins A, C, and K, and folic acid. In Ayurveda (traditional holistic medicine philosophy based in India), parsley is incorporated into meals during the spring to help with appetite control and weight loss
Granny Smith Apple – Lower on glycemic index than other fruits; prevents digestive disorders; high in vitamins A and C and flavanoids
Lemon – Rich with Vitamin C; antibacterial and antiviral; immune system booster; can help prevent acne
Ginger – Anti-inflammatory; clears up sinuses and settles stomach; immune system booster; helps to control appetite
Ingredients
2 cucumbers
1 handful parsley
5 swiss chard or kale leaves
3/4 to 1 granny smith apple
1 lemon (include the rind)
1″ to 3″ ginger (depending on how much heat you like)
Juicing for newbies 
Some people shy away from juicing because they think they'll have to invest in a super-fancy machine that they'll never use. But it's not necessary to have an expensive juicer to get the job done. There are some great juicers at Amazon that are reasonably-priced, just make sure you read the reviews. I use a Jack LaLanne Juicer which I got 4 years ago and it has been a great investment. Breville and Omega are also said to make excellent quality value-priced juicers.
Yes, juicing can be a bit of an operation. You have to plan ahead, wash the vegetables, juice, and then clean your juicer. In total, it usually takes me about 15 minutes. But as with cooking, juicing doesn't have to be a pain – just relax, get some good music going, and have fun with it!
The benefits of juicing far outweigh the time and money required. These include weight loss, more energy and overall vitality, improved appearance, youthful glow, disease prevention, and more. To learn more about juicing, check out The Ultimate Book of Modern Juicing by Mimi Kirk.
Spring Detox Green Juice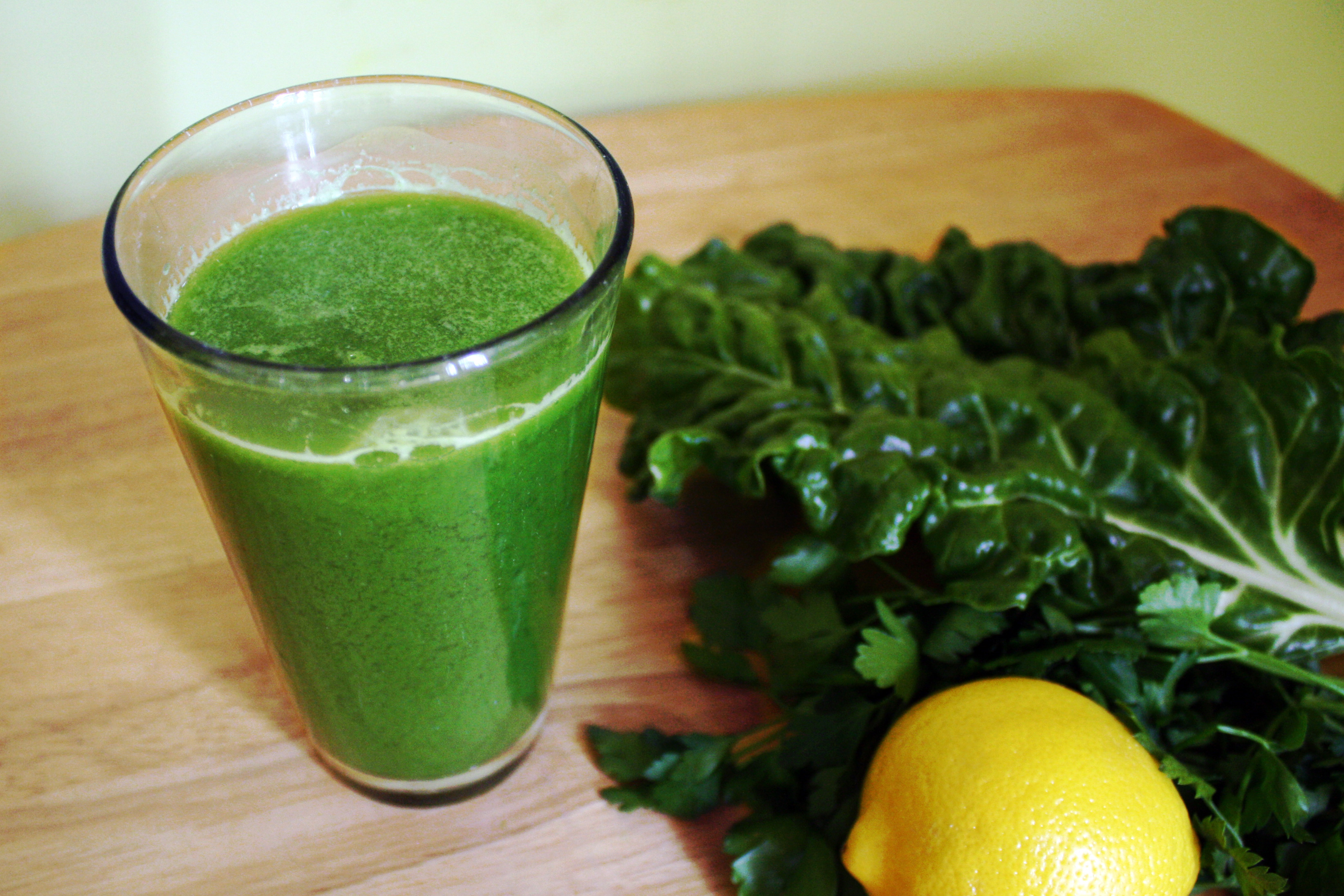 Alkalizing and detoxifying green juice recipe. Refreshing and delicious, while also low in fruit and sugar.
Yields: About 2 glasses
2 cucumbers
1 handful parsley
5 green swiss chard or kale leaves
3/4 to 1 granny smith apple
1 lemon (include the rind)
1" to 3" ginger, depending on how much heat you like
Preparation time:

5 minutes

Total time:

5 minutes