This is one of my favorite pasta dishes. I usually use quinoa shells instead of macaroni, as I prefer the size and shape. In this particular cheese sauce, I add coconut oil and white miso, which add to the richness and flavor of the cheese sauce.
The creaminess of the cashews, the cheddary-ness of the nutritional yeast, and the tartness of lemon or lime juice create a very cheesy taste and texture, that doesn't involve cruelty or cholesterol!
You can add any of your favorite vegetables, but I always use swiss chard or kale, which go fabulously with the sauce.
The pasta dish also makes for great leftovers. I like to dust it with extra nutritional yeast and sea salt, then heat it in the stove until it's hot and slightly crunchy.
Shells n' "cheese"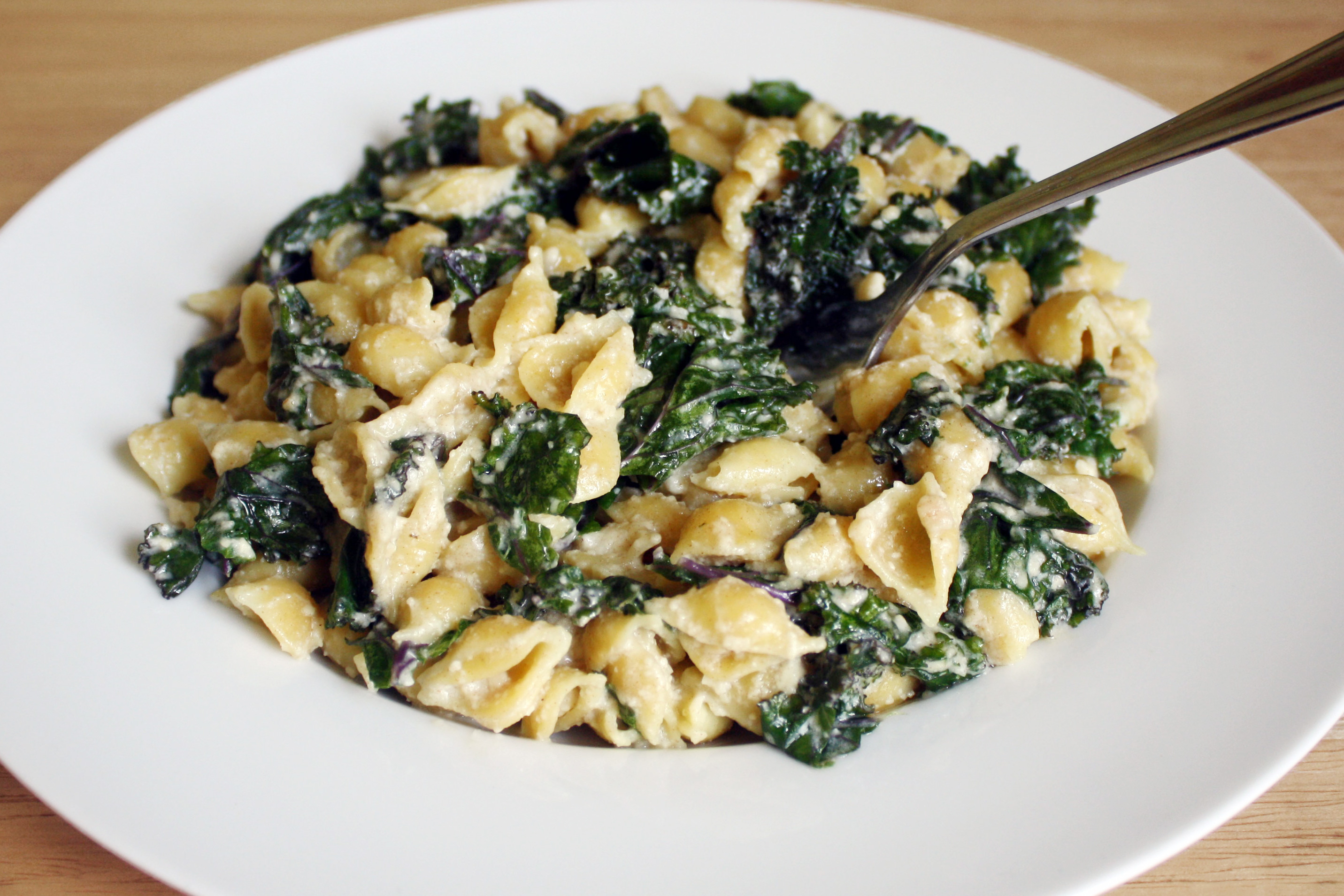 Comforting, filling, and healthy vegan shells n' cheese, featuring cashews, miso, nutritional yeast, and coconut oil.
Yields: Serves 2
1/2 cup raw cashews
3 tbsp nutritional yeast
2 tbsp white or yellow miso paste
2 tbsp coconut oil
1 tbsp teff flour or other gf flour
3 tbsp onion (about 1/2 medium onion), chopped
2 tbsp lemon or lime Juice
1 cup water
A few pinches sea salt
1 package gluten-free pasta shells (8 oz)
1 tbsp extra virgin olive oil
6-7 stalks swiss chard or kale
Cook the pasta according to the directions.
While pasta is cooking, wash the chard or kale stalks while separating the leaves from the stems. Discard the stems.
Towel-dry the swiss chard or kale leaves, rip up into bite-sized shreds, and place into a bowl.
Drizzle olive oil on the swiss chard or kale and massage oil into each individual shred. Put to the side.
Combine cashews, nutritional yeast, miso paste, coconut oil, teff flour, onion, lemon or lime juice, water, and sea salt in a blender.
Blend on "liquify" until smooth.
Transfer into a sauce pan, and heat over low, stirring continually.
When the sauce starts to become thick or the desired consistency, combine it with the pasta shells.
Toss until the chard or kale, pasta, and sauce are thoroughly interspersed.
You are now done. Enjoy!
Preparation time:

10 minutes

Cook time:

10 minutes

Total time:

20 minutes