One of my favorite ways to get into fall mode is to start thinking about the new clothes I'm going to wear, particularly vegan sweaters, jackets, boots. Towards the end of the post, I'll get into my favorite vegan finds for the season. First, let's talk about a very animal-unfriendly material that gets purchased and worn a lot around this time of year – wool.
The details surrounding the story of wool are not common knowledge. Wool sweaters, like leather bags and shoes, are considered to be better quality and therefore are more sought after than sweaters made from synthetic materials. Still, my sense is that if people really knew how wool and similar materials were produced, they would not consider a wool or cashmere sweater to be desirable or fashionable.
So where does wool come from and why should we care?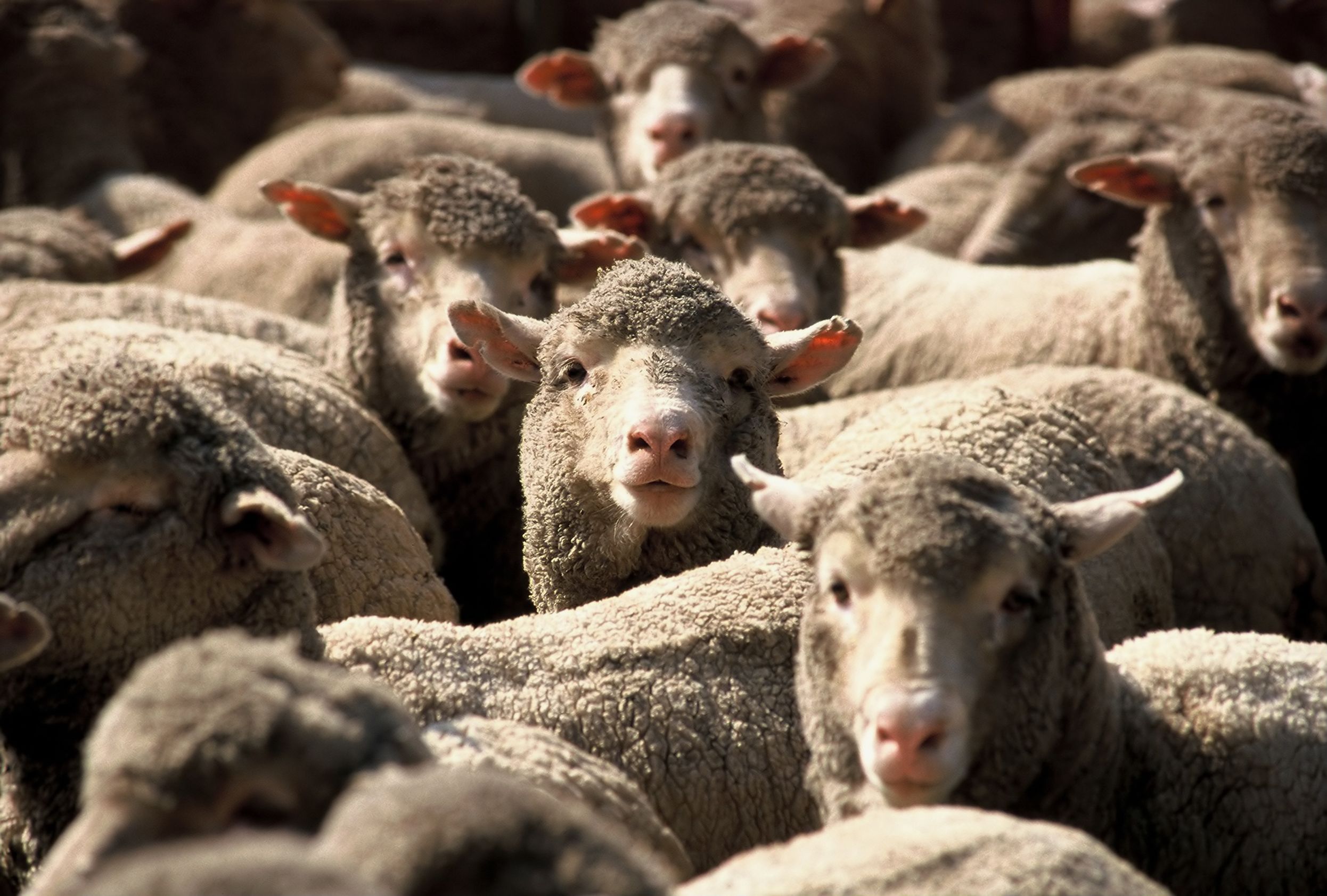 Wool comes mostly from Merino Sheep bred in Australia, despite the fact that Merino Sheep aren't native to Australia's hot climate
Male sheep are castrated, without painkillers
Merino sheep have been bred to have as much skin as possible, in order to produce ridiculous amounts of wool. The folds caused by their excess skin, prevent them from defecating properly, and these areas of their body are prone to fly and maggot infestations (which are incredibly painful and can eat them alive). To prevent such infestations, muelsing is performed. In this brutal procedure, sheep are turned on their backs and restrained, as chunks of skin around their rectum are cut off, without any anesthetization whatsoever
When they are considered to be old or "tapped" out in terms of being able to produce as much profits as possible, these same sheep are shipped to the Middle East, Asia, or Africa for slaughter. During these trips, the sheep are terrified and extremely stressed out, having never been aboard a ship before. They are also forced to endure cramped, filthy conditions and tens of thousands die en route to their destination each year
For the sheep who manage to survive the horrific trip, the nightmare is far from over. They are kicked and dragged off the ship and then thrown onto crowded trucks. The countries that they arrive in have nothing in the way of animal rights laws. These gentle and docile creatures are not stunned prior to slaughter, and are often skinned and dismembered alive
Wool's environmental footprint
Many "environmentally-friendly" clothing brands and outlets carry wool, as they maintain that wool is biodegradable and doesn't require as much processing as other materials. But is wool really that sustainable? Contrary to popular belief, wool does in fact have a fairly big environmental footprint when compared to other materials that are not sourced from animals. Here's why:
Wool requires extra land and food to raise and breed sheep
Sheep husbandry is more water-intensive than cotton production and the production of synthetic textiles
Sheep produce methane, which is 20x more powerful in terms of trapping heat and creating the greenhouse effect than any other forms of CO2
90% of CO2 emissions come from sheep in countries where wool is a primary export, such as New Zealand and Australia
As for un-environmentally-friendly companies, hazardous chrome chemicals are used to dye wool, because other dyes don't fasten as easily to wool.
What about cashmere?
Cashmere is shorn from the underbellies of goats. These goats are often dehorned and castrated without anesthetization
Having no hair on their underbellies makes goats vulnerable to colds and illnesses, especially during periods of colder temperatures
Approximately 50% to 80% of goats are slaughtered before the age of 2 because they are considered "defective" and many others are later sold for slaughter
What about angora?
90% of Angora comes from China, which has nothing in the way of animal welfare regulations. The cages the rabbits live in damage their extremely sensitive footpads, causing them an enormous amount of pain. When it's time to be sheared, the rabbits are strapped to boards with painful clamps – an experience that is terrifying for them as they are prey animals. Their fur is either roughly shorn from them, often leading to injuries, or savagely ripped from their skin as they scream in sheer pain. This process occurs every 3 months for 2-5 years, at which point they have their throats slashed before they are skinned
Other reasons why wool sucks
It's usually more expensive
You can't just throw it in the washing machine and dryer. It needs to be hand washed or taken to the dry cleaners
It pills and deteriorates easily
Wool alternatives
When I gave up wool several years ago, I wondered what I was going to wear to help trap heat in the fall and winter months. I'm one of those people who gets cold really easily, so the idea of not being able to stay warm was a real concern for me. Luckily, it wasn't long before I was able to discover some materials that gave wool a run for it's money. These include, but are not limited to:
Even cotton and linen sweaters can be fairly warm, depending on the yarn used.
My preferred material is bamboo, as it's one of the most eco-friendly materials out there and it's s super-soft and cozy. However, only a few companies have jumped on the bamboo train so the pickings are pretty slim. Therefore, most of the time I wear clothes made from cotton, linen, and synthetic fibers. Although viscose, polyester, and modal aren't as biodegradable as cotton, they're much less water and energy-intensive than cotton.
Below is a round up of some of my preferred brands for each fall fashion category. Not everyone has the same style as me, of course (especially men), but you can appropriate my suggestions to the looks you're going for.
Scarves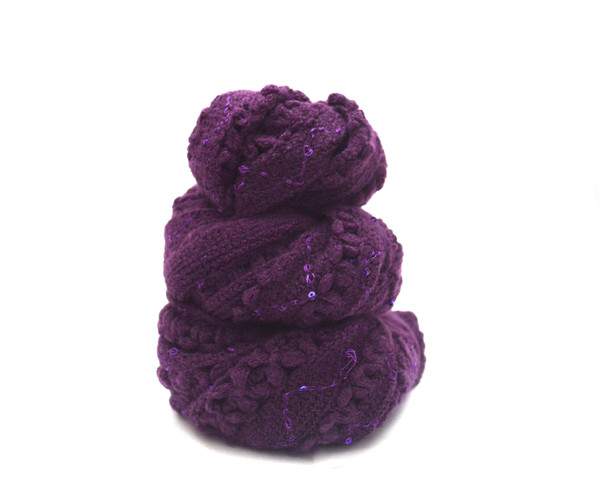 Chunky
Knits by Nat scarves on Etsy look as if they were made with wool and are just as warm. Peruse more vegan scarf options on Etsy here.
Pashmina
Real pashminas are made of cashmere from goats, but vegan pashminas also exist. For fancy occasions, I wear this bamboo pashmina I found on Amazon.
Boho
Bohemian Vegan Fashion has a eye-catching collection of eclectic vegan scarves. They're warm and substantial, but also inexpensive.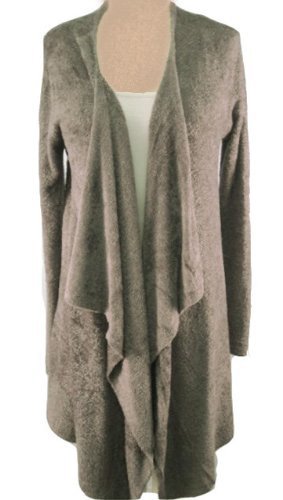 Sweaters
American Eagle Outfitters is my go-to for vegan sweaters, as they have versatile, warm sweaters many of which have similar textures to wool and cashmere but are made with polyester or acrylic. They're also fairly inexpensive.
Hollister and Swell are some other great options for finding warm vegan sweaters.
Barefoot Dreams has amazingly soft and cozy sweaters made from the bamboo. Bamboo is an eco-friendly material because it grows fast, doesn't require irrigation aside from rainfall, and doesn't require pesticides or herbicides. In particular, I love Bamboo Dreams' Bamboo Chic Lite Calypso Wrap.
Jeans
As I said in Vegan Summer Fashion my favorite brand for jeans is Free People.
Leggings and sweats
Alternative Apparel makes leggings and sweatshirts which are simultaneously lightweight, warm, and soft. They're also made with organic cotton and recycled materials.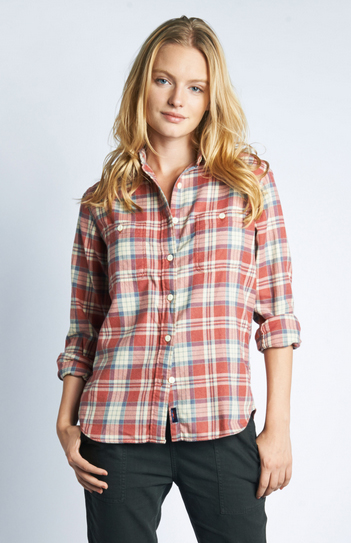 Tops
What's fall without plaid shirts? Faherty Brand has a beautiful collection of eco-friendly and sustainable clothes. In particular, their plaid shirts, made with organic cotton, are awesome. They're a bit expensive, but they have great sales. American Eagle Outfitters and Hollister also have great selections of plaid and flannel shirts on the more economical side.
Otherwise, I get my tops from Lucky Brand. I love the bohemian look of their clothes, especially their shirts.
Dresses
My go-to stores for vegan day dresses are American Eagle Outfitters and Hollister. Their warm and comfy sweater dresses are typically made with cotton, polyester, or acrylic material, and they're almost always vegan. Just make sure, as always that you double-check the product description to make sure that they don't contain wool.
Outerwear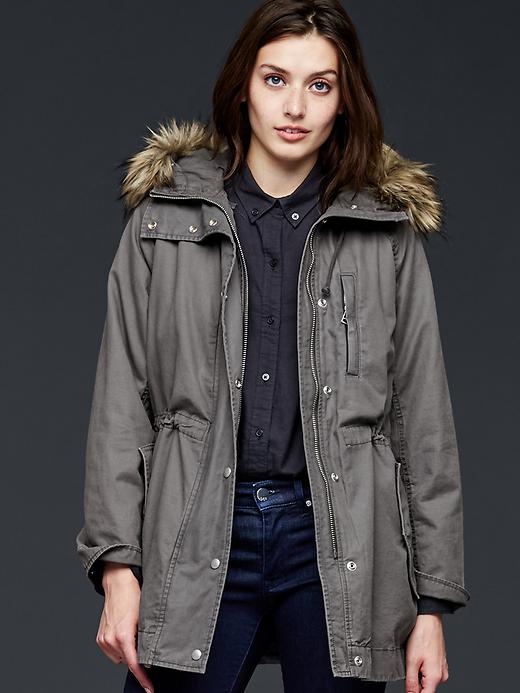 I mentioned in Vegan Outerwear that I always used to wear my Barbour utility jacket in the fall and spring. But years of wearing it day in and day out caused it to literally wear out. I was able to drop it off at Barbour to get the big rip in it fixed (they make repairs for free).
In the meantime, I purchased a Sherpa-Lined Parka from the Gap and fell in love with it! It has a sherpa lining that's made from polyester and cotton, and the lining on the hood is faux-fur. The sherpa lining is removable, so you can easily adjust it according to how warm or cold it is outside. The faux-fur lining on the hood is also detachable, but I've kept it on because it helps to keep my face warm. It's perfect for October-November and March-April weather. A&F has a very similar Sherpa Lined Military Parka.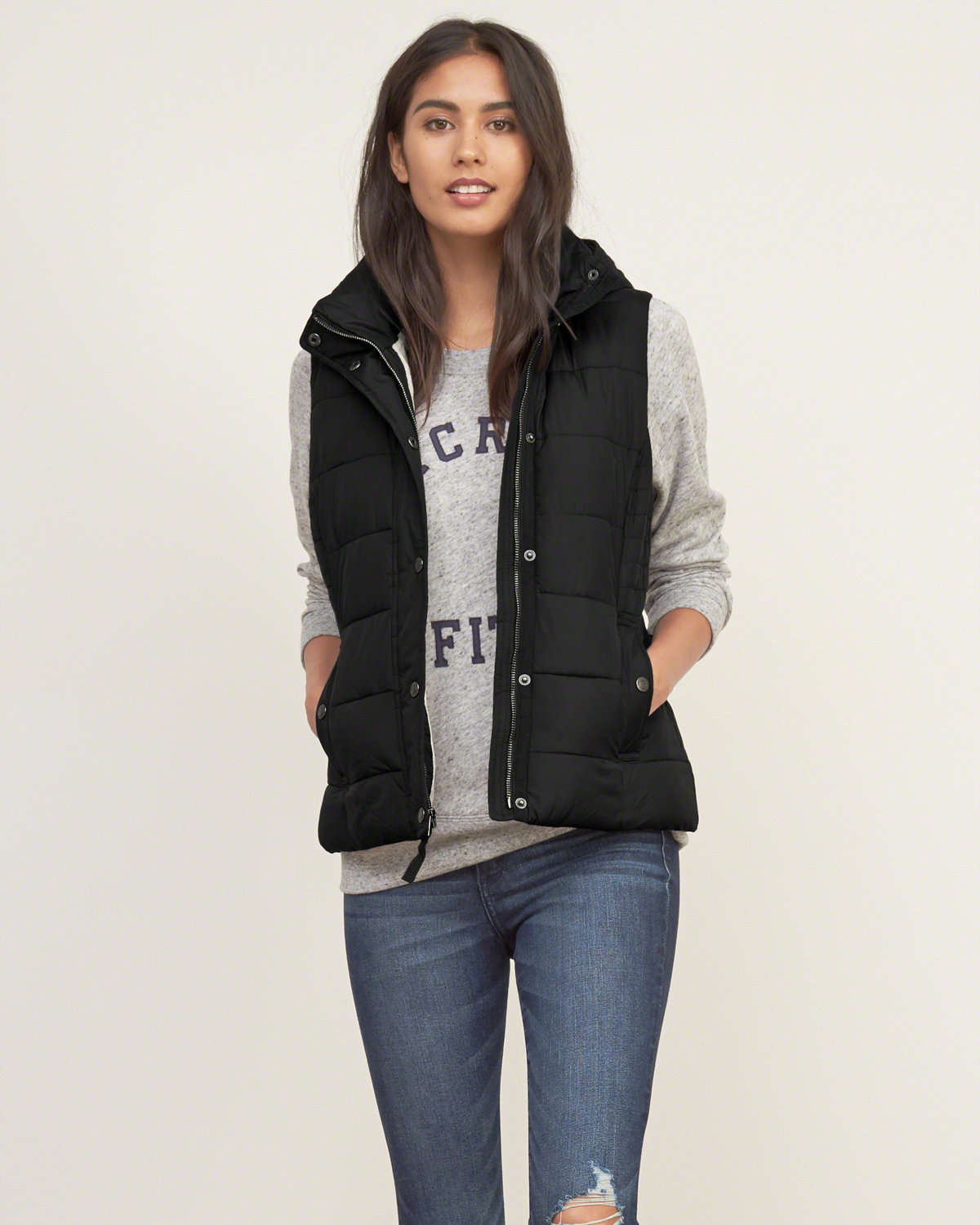 Puffer vest
Polyester puffer vests are great at trapping heat and keeping your torso warm. Last year, I got a Primaloft vest from Gap that I wore every day from November to March.
Abercrombie & Fitch has a similar Hooded Puffer Vest that's vegan.
Shoes
As you can see in the Shoe section of my Amazon Store, I've curated a kick-ass collection of vegan shoes and boots. I chose shoes that are mostly beige and neutral colors, as they go with everything. Other great places to look for vegan fall shoes and boots are Vegan Chic, MooShoes, Neuraura, Cri de Coeur, Will's Vegan Shoes, and my favorite – Vegetarian Shoes.
Label checking
Having to quickly but scrupulously scan fashion labels for animal products can initially seem like a pain, but believe me, it gets easier with time. After a while, you don't even have to think about it – your subconscious just takes over and it's like second-nature. To make sure the sweaters you're purchasing aren't made with animal products, check the wash care label that's sewn in for the words wool, cashmere, angora, or silk. If you're shopping online, check the "Details," "Fabric and Care" or "Product Description" information next to the product.
And finally keep in mind whenever you shop that cruelty is never truly attractive and that compassion is the most powerful fashion statement any of us can make.
Items featured above: Bag from Big Buddha //  Scarf from Bohemian Vegan Fashion //  Plaid Shirt from American Eagle Outfitters //  Ahh-mazingly Soft Sweater from American Eagle Outfitters // Jamie Jeans from TopShop //  Biker Boots from Will's Vegan Shoes
Further reading